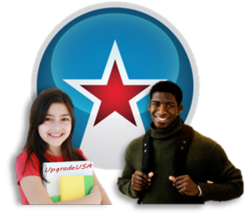 Our online credit-buildng laptop service can help put students in a better position to succeed when they graduate.
Austin, TX (PRWEB) December 21, 2012
Students who face budget pressures but still need critical tools for success during the upcoming spring semester have found a solution from UpgradeUSA, a leading online company focused on helping people build credit through laptop payment plans.
"The cost of a quality education is putting many students deeper in debt than ever before, and obtaining a quality new computer at full retail price remains a challenge for many students," said Jon Weisblatt, founder & CEO, UpgradeUSA. "Our online-only solution provides people, including many students, with a choice of laptops at a variety of monthly prices, and our credit-building service can help put them in a better position to succeed when they graduate."
The Federal Reserve Bank of New York recently reported that student loan debt has increased to $956 billion, more than auto loan or credit card debt.
The UpgradeUSA program offers laptops on a lease payment plan that is different from traditional purchases that increase debt. The company's program offers qualified students the monthly payment flexibility to use a new self-selected laptop for a semester, and then return it or continue to lease it on a month-to-month basis (up to a maximum of 17 months, with no buyout clause at the end). And because UpgradeUSA reports every payment to all three US credit bureaus, students who have made their payments will have established a good credit history, even if they choose to return or pay off the laptop early.
Everyone Can Use Better Credit
A number of good people in the United States are starting to build a positive credit history thanks to the UpgradeUSA laptop payment program. A variety of people -- including entrepreneurs, legal US immigrants, students, individuals with a bankruptcy in their history, and many others -- are taking this important step. The UpgradeUSA program is online-only to preserve customer privacy and discretion.
The company's innovative online-only payment program allows approved customers to receive a brand-new computer without having to wait for months like layaway, or be forced into high prices for low-quality used products typically associated with the rent-to-own industry. UpgradeUSA ships customers a computer after the first payment is received.
Brands and Quality at UpgradeUSA.com
Consumers who visit UpgradeUSA.com will find a variety of new and factory-refurbished computers made by the world's leading technology companies, including Apple, Dell, and HP. Many models feature Windows 8, the newest operating system from Microsoft, as well as cutting-edge processing and graphics technology from Intel and AMD.
UpgradeUSA's laptop payment plans are available online only, and prices start as low as $55/month. Unlike other companies, monthly prices at UpgradeUSA do not change based on a customer's credit score.
How People Can Apply
To participate in the program, people should visit UpgradeUSA.com where they can click on the "Apply Now" button and complete a short, 2-minute application on a secure site. Email responses are sent within one business day. UpgradeUSA ships the laptop after the first customer payment. Customers can make and schedule all payments securely online via debit or credit cards.
Availability by State
UpgradeUSA's online-only laptop payment plan services are now available for qualified customers in the following states: Arizona, California, Colorado, Delaware, Florida, Illinois, Kansas, Kentucky, Louisiana, Massachusetts, Michigan, Mississippi, Missouri, Montana, Nevada, New Mexico, New York, North Dakota, Oklahoma, Oregon, South Dakota, Texas, Utah, Vermont, Virginia, Washington, and Wyoming.
About UpgradeUSA
UpgradeUSA helps a growing number of U.S. consumers start to build credit. The company accomplishes this through the online leasing of new and refurbished mobile computers, with each monthly customer payment reported to all three major U.S. credit bureaus. Customers can choose to end their lease and return their computer at any time after a few months, or can purchase it early at any time during the lease process, at a declining cost and with no penalty. Our program is available in a growing number of states. UpgradeUSA is privately held and is headquartered in Austin, Texas.