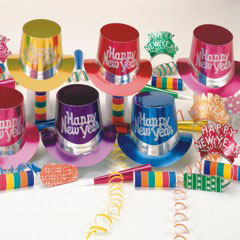 Chicago, IL (PRWEB) December 21, 2012
As the end of 2012 nears, individuals are beginning to prepare to bring in the New Year. Whether they are attending parties at bars or restaurants, friend's parties, or in the comfort of their own homes, celebrations will be held and champagne toasts will be made. With the help of Windy City Novelties, Chicagoland's online party supplies retailer, hosting a party is made easy with their stock of New Year's Eve party supplies and decorations.
Every guest needs the essential party favors in order to ring in the New Year, including a New Year's Eve hat and a noisemaker. Windy City Novelties' New Year's Eve Party Kits contain all the party favors needed for a great party, including hats, tiaras, and various types of noisemakers. Individuals may receive other party favors, depending on the kit. Kits run as big as 100-person sets in order to accommodate bars and restaurants that host New Year's Eve Parties. The retailer also offers kits for as little as ten people for intimate gatherings, as well as kit sizes ranging in between the two numbers. For a limited time, the company is offering all New Year's party supplies and decorations at a discounted rate, taking 30% off products from the New Year's categories.*
New Year's Party Kits come in a variety of styles and colors, ranging from fun and casual to classic and elegant. Individuals can also participate in theme parties by purchasing a theme New Year's Party Kit. The themed party kits supplied by Windy City Novelties include a western theme, paradise theme, neon theme, black and white theme, and more! Party throwers can also choose between classic silver and gold party favors, as well as colorful, metallic party favors.
Windy City Novelties also offers many other New Year's Eve party supplies and decorations. No New Year's party is complete without confetti poppers or balloons! Consumers can also choose from a range of products with the year 2013 printed on them, including 2013 cardboard glasses and hats. In addition to the New Year's party favor kits, Windy City Novelties also provides decoration kits that make decorating for a party stress-free. The kits come in the various New Year's colors such as gold, silver, and black, and contain numerous decorations including banners, foil swirl ceiling decorations, New Year's cutouts for wall decorating, and more. Shoppers can find many other decorations and party supplies on Windy City Novelties' website.
*Some restrictions apply. See website for further details.
ABOUT WINDY CITY NOVELTIES
Windy City Novelties, a party supply company founded in 1983, is known for their great selection and competitively priced items. They have an A+ rating from the Better Business Bureau and are also a NexTag 5 star Seller. From their website, windycitynovelties.com, they offer fast and friendly shipping along with great customer service. From glow sticks in every color of the rainbow, to party decorations in a variety of themes, and even a vast selection of Halloween costumes at the best prices, Windy City Novelties has over 15,000 products and adds more each week.