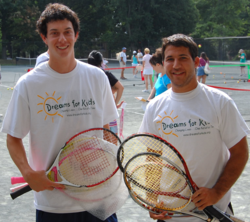 We're looking to make a huge impact on children's lives here in Austin, helping them to succeed on and off the court
Austin, Texas (PRWEB) December 20, 2012
Austin based company, MyTennisLessons has begun talks with the Andy Roddick Foundation on ways in which the two entities can together help underserved youth. Since its inception in 2009 (initially under the name DC Tennis Pros), MyTennisLessons, a website that helps individuals nationwide find and take tennis lessons with tennis pros in their area, has been dedicated to giving back to the community. In the past MyTennisLessons teamed up with Kids Serving Kids and the Dreams for Kids Foundation. Operating in the DC metro area, they collected and distributing more than 150 tennis racquets to underprivileged children as well as put on a clinic for disabled youths.
Upon relocating their offices to Austin, Texas in 2011, the MyTennisLessons team has been in search of a non-profit that they could work with on a more regular basis. With the Andy Roddick Foundation's announcement of the construction of a state-of-the-art facility in Austin, Texas, it seemed only natural for the two organizations to work together. The facility will include more than 10,000 square feet of computer labs, meeting and mentoring rooms, a nutrition and physical education center, and eight lighted tennis courts.
To date, MyTennisLessons has continued to collect tennis racquets in the Austin area and hope to generate a city-wide tennis racquet drive. MyTennisLessons.com founder Andrew Marcus is excited to team up with the Andy Roddick Foundation to continue such charitable endeavors. "Co-sponsoring an event with the Dreams for Kids foundation at the Legg Mason Tennis Classic in Washington, DC was a real privilege to be apart of" says Marcus, "We're looking to make a huge impact on children's lives here in Austin, helping them to succeed on and off the court". The two entities are still in talks about the specifics of a future fundraising event but are both eagerly awaiting the opening of the new facilities in 2013. In the meantime, MyTennisLessons is accepting any tennis racquet donations. If you are interested in donating used or new racquets, find a drop off location nearest you that that is currently collecting donations.
To schedule an Interview with the founder of MyTennisLessons.com please contact Katie Warner at katie(at)mytennislessons(dot)com
About MyTennisLessons.com
MyTennisLessons is a full-service online marketplace for group and private tennis lessons. By connecting prospective tennis clients with available tennis instructors and programs in their local community, they help people discover the joys of this lifelong sport. Conducting lessons in hundreds of cities nationwide, MyTennisLessons aims to make any tennis lessons experience fun, affordable, and hassle-free.
About the Andy Roddick Foundation
ARF's mission is to develop and inspire underserved youth through sports-based mentoring and education, preparing each youth to succeed in the game of life. ARF believes talent is universal but opportunity is not. By focusing on character development and values such as honor, respect, dignity and duty, our goal is to provide all children a support system that gives them hope for a brighter future.