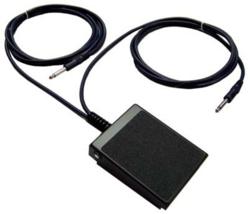 . I use DSSP and I recommend it to all keyboard players that use multiple keyboards."
-Andreas Grimsbo, Keyboardist/Musician from Sweden
Moore, SC (PRWEB) December 22, 2012
"The DSSP is the new standard for keyboard sustain pedals. We have customers across the globe that love this product and have made it a permanent fixture in their rigs," says Curtis Ellis, CEO of CMEWORKS-DSSP.
The DSSP is an essential tool for keyboard players who play stacks (two keyboards). Some find it challenging to use multiple pedals due to it limiting their performance. However, the innovative DSSP is designed for just that purpose. The DSSP has two lines coming from the mold of the pedal and easily connects to every brand of keyboard. Thus, eliminating the need for two pedals by replacing them with one sufficient, beautifully crafted S-series sustain pedal.
There are countless numbers of professional keyboardists around the globe who own DSSPs. Many of them play for some of the biggest names in music and entertainment, including Anthony Williams, Keyboardist for BET Bobby Jones Gospel, Evan Brice, Keyboardist for Usher, Anthony Miller, Keyboardist for Alicia Keys, Brittani Washington, Keyboardist for Beyonce, and a plethora of others!
"I have been looking for something like DSSP for a long time, so it made me really happy when I found this fantastic pedal. It helps me out in live situations and make it easier to put focus on the keyboards. I use DSSP and I recommend it to all keyboard players that use multiple keyboards."
-Andreas Grimsbo, Keyboardist/Musician from Sweden
"The pedal worked flawlessly! Not only did it sustain flawlessly, but it eradicated another problem I've been having for years, which is pedal slip. I've been annoyed with other pedals in the past because they slid all over the place, no matter how heavy or "well developed" they were. However, the DSSP is uniquely wide, and it's much more flat, which gives it more contact with the ground and a lower center of gravity, thus eliminating pedal slip on any surface. I also love its quiet hinges. The DSSP is the perfect solution for sustaining multiple keyboards, and I'd prefer to use it even if I'm using only one keyboard at a time. Simply put, the DSSP is a BEAST!"
-Chuck Hawnkinz, Keyboardist/Producer from Arkansas
Currently there are three models of the DSSP, Model CE43, Model CE44 and Model CE45. Click here to see which DSSP model is compatible with your keyboard. To assure that you order the correct pedal for your stacks you will need to review the product table here, or refer to the product information tab in the link above. If you have any questions you can contact Curtis Ellis by sending an email to dualsustainsinglepedal@dssp-pedal.com or by visiting the website http://dssp-pedal.com/
Video featuring Curtis demonstrating the DSSP
http://www.youtube.com/watch?v=Y7pMUTDQWpY
Video produced by Harmony Central at 2011 NAMM show featuring Curtis
http://www.youtube.com/watch?v=T6SLFFW13q4
DSSP Commercial featuring Athena Reich
http://www.youtube.com/watch?v=ISIoogpAU0s&list=PL7AEADF4915E3DF2A&index=15