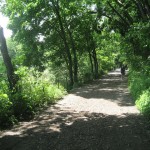 Mayor Bloomberg should submit to the community
New York, NY (PRWEB) December 21, 2012
"When my father passed away five years ago, I was not there," Filip C. of the Bronx wrote recently. "That morning when I received the call that he was gone, I went into Van Cortlandt Park and walked on this very path. Somehow being surrounded by all those trees with nothing but the soil and the plants and the wood made me feel slightly closer to him than I felt otherwise."
Jennifer G. of the Bronx notes elsewhere, "We need to keep and preserve the natural settings that are in place. We need to honor the personality and feel of an area that is around to provide us with a place to exercise, explore and feel close to nature."
Bronxite Brian Drennen urges, "Please save the trail and all the beauty this nature trail provides to the people who use and enjoy it."
These are among 1,300 voices from people who signed a petition against paving over the 1.5 mile trail that runs through the center of the city's fourth largest park. Van Cortlandt Park is known for its rich tapestry of history, trails and wildlife preserves as well as its wealth of playing fields and other recreational outlets. NYC Parks Dept is planning to widen the trail to 15 or 16 ft. and pave 10 ft. of its width with asphalt for $2.41 million in federal and city taxpayer money, originally obtained in 2005, to "improve the trail." By their own estimate the parks department would remove nearly 2 acres of forestland, and by another estimate 400 trees.
The park is already segmented by four parkways separating the eastern side from the western side and the communities that border them.
For three years, the parks department has been claiming that "paving was federally-mandated," says Save the Putnam Trail, a grassroots campaign against the city's plan. Parks also claimed that a stone-dust trail, that would be more in keeping with the park's character and history, was neither bike-friendly nor ADA-compliant. None of these claims is true, SPT points out.
The parks department apparently put together this plan to satisfy regional cyclists urged on by lobbying groups who want a regional bike path, made from macadam, that goes from upstate New York to Manhattan. However the stone-dust trail proposed by SPT as an alternative would not prevent this "Bicycle Masterplan" from being realized. Instead it would preserve the park's character and history for current and future generations, in a city and park already lined with asphalt.
"Mayor Bloomberg should submit to the wishes of the community and not allow this to happen," said Michael Oliva, a coordinator and founder of the grassroots campaign. He pointed to birdwatchers, runners, hikers, and ordinary residents who signed the petition. Some signers are local cyclists who represent a sliver of the many local cyclists adamantly opposed to paving.
Local biker and resident Laura Anne Gilman notes, "I love biking along the trail - it's perfect for walkers, joggers and bikers who want a respite from the concrete, a place where you can remember that NYC is green too."
Theresa, a Bronx mother and hiker, reveals: "I have spent many hours walking the Putnam Trail. Even though my kids won't need their stroller by the time the trail is redone, I love the idea of a bike/foot/stroller-friendly, well-drained surface that preserves the intimate tree-shaded feeling of the current trail."
And Brooklyn resident Karen Marmon says with acute insight: "This is one of my favorite trails in NYC and the best place to experience nature. New York already has a runoff problem with rainwater and more pavement will compound the problem. In addition widening the trail will involve cutting out plants and creating a greater boundary for wildlife to cross. Please also consider the trail runners and bikers that come here specifically because it is not paved, a unique trait in New York City, which has so many paved recreation areas already."