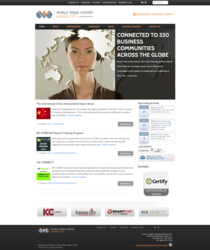 "The new site offers everything from help with export documentation and lead generation, to trade data, visits and education," says Mehgan Flynn, Director of the WTC-KC.
(PRWEB) December 20, 2012
Fox Web Creations and The World Trade Center Kansas City have launched a new website - http://www.wtc-kc.com/. Designed for companies already doing business globally, as well as those considering entering the global marketplace, the site boasts resources on everything from the paperwork involved in international business to options for visiting the countries in question.
With experience and operations in Switzerland, Morocco, and France already under their belt, the Kansas City based Web Design firm Fox Web Creations was an excellent partner for this project. CEO and Lead Developer ElAmri "Red" Rida has a personal understanding of the importance of international business and worked closely with the WTC-KC staff to develop the new site. "We wanted the site to be easy to navigate, interactive and helpful to the business community. We also wanted to make sure that the staff of the WTC would be able to easily manage the content themselves, allowing them more freedom to make decisions about their content." Fox Web Creations focuses on web design in Kansas City, and on assisting small and large businesses with their internet marketing and development needs.
"The new site offers everything from help with export documentation and lead generation, to trade data, visits and education," says Mehgan Flynn, Director of the WTC-KC. "We're also part of the largest trade network in the world – you'll find World Trade Centers in 330 cities and 100 countries around the planet. The new website ties into our mission to connect the KC region to the people, data, companies and government agencies that make up the fabric of global commerce."
Some of the New Website features include:

A comprehensive calendar of international events in the local community, including:
-- International market briefings
-- International business workshops
-- Intercultural sensitivity workshops
-- Group Trade missions

ECertify – an easy, online app for Certificates of Origin
SphereAccess – lead generation for buyers and suppliers.
As a member of the World Trade Center Association (WTCA), WTC-KC can also offer additional resources and services to support the business community in reaching out to international markets. The services include:

Global market research
Trade lead identification
Global trade intelligence
Intercultural communication training
International liaison programs
Discounted access to SphereAccess - a retail buyers and suppliers matchmaking system.
"Now that the new site is launched, we're gearing up for a new year of WTC-KC programs and services," says Flynn. "We'll continue our popular 'Doing Business In…" programs featuring various countries – China, for one. And, based on a survey of our members, will be offering a series of cultural sensitivity sessions starting this April. We're also working with the state of Missouri on an intense, three-month export training program for local businesses. So the new year looks pretty full!"
The World Trade Center Kansas City is a partnership of the Greater Kansas City Chamber, the Kansas City Area Development Council, and KCSmartport. Fox Web Creations is a full service Kansas City Web Design, Marketing, Search Engine Optimization (SEO/M), and Responsive Web Design (RWD) firm, located at 4345 State Line Road, in Kansas City, MO 64111. They are dedicated to assisting all businesses, regardless of size, with their web design and development needs.