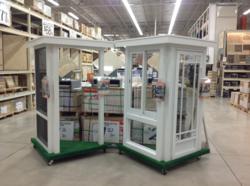 With our in-store displays, what you see is what you get. Customers can see building and design detail choices.
MIAMI, Fla. (PRWEB) December 20, 2012
Venetian Builders, Inc., Miami, the leading installer of quality aluminum sunrooms, patio covers, patio enclosures and screened pool enclosures in South Florida, has delivered a custom-designed, custom-made sales display to the Home Depot in Miramar, Fla.
Venetian Builders is fabricating sales displays for 30 Home Depot stores that have entered into a sales partnership with Venetian. From those stores, Venetian will serve Home Depot customers seeking patio enclosure, sunroom and screened pool enclosure installation in Miramar, Miami, Fort Lauderdale, Homestead, West Palm Beach and other South Florida locations. Venetian also repairs and upgrades aluminum structures.
Miramar Home Depot 6353 took delivery of the 6-foot-tall, two-sided Venetian Builders display in mid-December. The display opens to showcase 8 running feet of Venetian Builders products and materials. It allows lead generators to show customers such details as screening, doors, framing, glass panels, windows, insulated wall panels and an insulated roof panel.
"With our in-store displays, what you see is what you get," said Neil Thompson, the Venetian Builders liaison to Home Depot stores. "Customers can see building and design detail choices."
Roger Delagnel, specialty manager at the Miramar Home Depot, said the display is attracting attention. "This is a unique display, in that it has all forms of what Venetian builds," Delagnel said. "That's great for customers, who really seem to be responding to it."
The wheeled store display, which closes to 4 square feet, can be moved easily among Home Depot departments.
After a customer asks for a free estimate on a Miramar sunroom, patio cover or screened pool enclosure, Venetian estimators take even more detailed displays to homeowners to help them decide on materials and designs.
Christopher Noe, president of Venetian Builders, expressed excitement about expanding deeper into Miramar.
"Miramar is a real family-oriented community," he said. The U.S. Census Bureau reported 38.5 percent of the population is 25 years old or under, with a good deal of those people school-aged. The Census Bureau measured a 67 percent increase in population there in the 2000s, and it reported that more than three-quarters of Miramar's households own their home.
"Miramar has its share of open spaces, including lakes, canals and recreational areas," Noe said. "That makes it important not just to meet the tough Florida Building Code, but to exceed it." Many of Venetian's Miramar screened enclosures and sunrooms exceed code, he said.
Venetian Builders aluminum additions purchased through Home Depot may qualify for special Home Depot bank financing, or for partial purchase on a Home Depot credit card, Noe said.
For more information, call Venetian Builders, 866-596-2427.