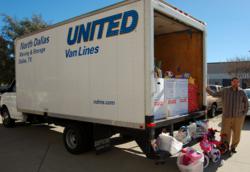 NDMS helps North Texas children have a Merry Christmas
Dallas, TX (PRWEB) December 21, 2012
On December 20, 2012, Toys for Tots received an entire moving truck full of toys, courtesy of North Dallas Moving and Storage (NDMS). The toys, which were donated by employees, customers, and North Dallas neighbors, filled the 17-foot box truck bound for the Arlington Toys for Tots warehouse. Warehouse workers will sort and distribute toys to Dallas-area underprivileged children, who have been identified by social welfare agencies, church groups, and other community groups.
The toy drive began in October, and the North Dallas community contributed thousands of new, unwrapped toys. This is the first year that North Dallas Moving and Storage has served as a drop-off location for the toys. The drive was so successful that NDMS plans to continue their participation annually.
Toys for Tots was a natural partner for the Dallas movers, since NDMS headquarters can easily provide the free warehouse space necessary for storing and sorting the toys. Toys for Tots relies on local business leaders to play key roles in the toy drives. Partnering companies place drop-off/collection boxes in their stores; provide free warehouse space for storing and sorting toys during October, November and December; and provide vehicles to collect toys from drop-off sites.
"All of us here at North Dallas Moving and Storage are very fortunate," says Brandon Morris, President, "We wanted to give back, especially to the less fortunate in our community. This is just one way we can help our community prosper and have a Merry Christmas."
About Toys for Tots Foundation:
Marine Toys for Tots Foundation, an IRS recognized 501(c)(3) not-for-profit public charity is the fundraising, funding and support organization for the U. S. Marine Corps Reserve Toys for Tots Program. Toys for Tots, a 65 year national charitable program, provides happiness and hope to disadvantaged children during each Christmas holiday season. The toys, books and other gifts collected and distributed by the Marines offer these children recognition, confidence and a positive memory for a lifetime. It is such experiences that help children become responsible citizens and caring members of their community. Last year the Marine Corps fulfilled the holiday hopes and dreams of 7.2 million less fortunate children. Since 1947 over 209 million children have been assisted. For more information, visit http://www.toysfortots.org.
About North Dallas Moving and Storage
Founded in 1966, North Dallas Moving and Storage is family-owned and operated. The company specializes in moving and storing domestic and international household goods, as well as office relocations. North Dallas Moving and Storage is dedicated to quality service and creating lifelong relationships with its valued customers. Visit North Dallas Moving and Storage on the web at http://www.ndms.com/.