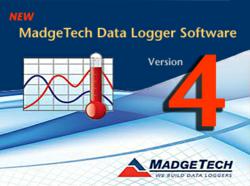 Warner, NH (PRWEB) December 19, 2012
MadgeTech 4.0 Software can communicate with multiple loggers through multiple interface cables. Capable of simultaneous start, stop and download of over 100 devices, this software serves as your virtual command center for large scale facilities and small. Display your data in graphs, with tabbed views and multi-monitor support. Utilize the infinite graphing flexibility by combining channels and datasets as desired. All graphing makes use of accelerated graphics hardware for real-time updating and high performance visuals.
The MadgeTech 4.0 Software was designed with a built-in database for automatic storage of downloaded files. The look and feel is organized much like standard email programs to aid in user friendliness and ease of use. MadgeTech 4.0 also offers extensive alarming options across multiple devices, wireless and non-wireless. Alarm output options include email, on-screen, text message and run-a-program alerts.
To round out the list of improvements, MadgeTech 4.0 has a powerful and comprehensive statistics system that allows the user to customize and view statistics as desired. Another feature is customizable engineering units, allowing users to support and program devices with many different unit types as well as the ability to display them as an alternate unit if desired.
The MadgeTech 4.0 Software is available to download for free from our website http://www.madgetech.com. The MadgeTech Software allows users to remotely communicate with MadgeTech wireless data loggers, and is also a powerful, analytic tool. For more information please visit http://www.madgetech.com or call (603) 456-2011.