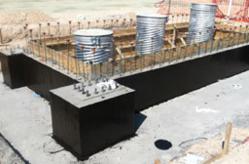 We are very pleased to introduce a new waterproofing option into our lineup, especially a product with easy application that forms such a tough, flexible membrane," said Matthew Price, President of W. R. MEADOWS.
Hampshire, IL (PRWEB) December 26, 2012
W. R. MEADOWS, a leader in the construction product industry for more than 85 years, recently introduced HYDRALASTIC 836 into its waterproofing lineup.
HYDRALASTIC 836 is a cold-applied, solvent-free, 100 percent solids, single-component waterproofing compound used for interior or exterior concrete surfaces where protection from water intrusion is desired.
Used for horizontal and vertical applications, HYDRALASTIC 836 is ideal for positive-side waterproofing for foundations and also in between-slab applications such as waterproofing plaza decks, planter boxes, and sealing parapets.
HYDRALASTIC 836 does not shrink and has a low volatile organic compound (VOC) content and a very low odor. It can be used for both above-grade and below-grade applications and will not crack in extreme cold or slump due to softening at high temperatures.
In addition, HYDRALASTIC 836 contributes to LEED credits including Indoor Environmental Quality and Energy and Atmosphere.
W. R. MEADOWS, INC. designs, manufactures, and markets high-quality building materials for today's construction professionals. Products are sold through an authorized distribution network. The family-owned and operated company focuses on product quality, business integrity, and outstanding service since its founding in 1926.
W. R. MEADOWS remains committed to producing environmentally-friendly products and systems that meet or exceed the latest regulations. From highway construction and repair, building construction and restoration, to waterproofing/vapor barrier/air barrier products and more, W. R. MEADOWS has been satisfying the needs of the public and private sector of the building construction industry for over 85 years.