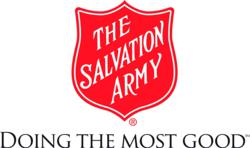 Doing business by the Golden Rule...
Bradenton, FL (PRWEB) December 19, 2012
xByte Technologies donated $25,000 to the local Salvation Army to help with meals and toys for Christmas for families in need. With the overall down economy over the past several years, many more families than usual cannot afford the simply things like a nice Christmas meal and toys for their children this Christmas time. xByte CEO Tom Santilli's connection to The Salvation Army started with the Gainesville, FL Salvation Army where he lived previously. While personally supporting the Gainesville Salvation Army efforts in the past, Santilli, who now resides in Manatee County, wanted to expand the efforts by further engaging his employees on a corporate level to help local struggling families within the Sarasota/Bradenton communities. When asked about the donation, Santilli says "As part of our overall motto of 'doing business by the Golden Rule' – we thought it prudent to give back to our local community to help make a difference this Christmas in as many lives as possible."
Major Phillip L. Murphy, Sarasota Area Commander, remarked, "The truth is, more people turn to us for help at Christmas than any other time of the year. Every time a child squeals with delight at receiving a new toy….every time a homeless person receives a nutritious meal…every time a family comes to The Salvation Army for help, we are thankful for caring corporate partners like xByte. It is hard to imagine Christmas without presents under a tree and we appreciate them stepping up at this time to help the financially struggling families in our communities."
xByte Technologies is a premier reseller of IT equipment with a history of quality service stretching over 10 years. The company specializes in servers, storage, and parts for Dell, HP, and IBM. xByte Technologies (http://www.xbyte.com) is located at 911 Commerce Blvd. North, Sarasota, FL 34243 and will be moving to a new larger facility located in Manatee County in 2013.
Each day of the year the Army is rebuilding lives, one life at a time and continues to "DoThe Most Good." In addition to meeting basic human needs for families and individuals and by providing emergency and intermediate shelter, food, clothing, counseling, training and health care, they also provide prevention programs and emergency disaster services. For more information or facilities tour please contact:
Contact:
Glenda Leonard, Development Director - Sarasota
glenda_leonard(at)uss(dot)salvationarmy(dot)org
(941)364-8845, ext. 221
Or Christine Smith, Director of Community Relations & Resource – Manatee
ChristineM_smith(at)uss(dot)salvationarmy(dot)org
(941)757-5766