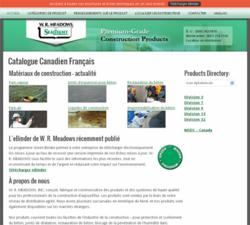 Hampshire, IL (PRWEB) December 21, 2012
W. R. MEADOWS, a leader in the construction industry for more than 85 years, recently released its website and Green Binder Program in French to better serve its French-speaking customers.
The website has been translated into French, offering product data, literature and information for French-speaking customers. It can be viewed directly at http://www.wrmeadows.com/fr/.
The Green Binder Program provides electronic updates rather than receiving print versions of data sheets, saving time, money and reducing the environmental impact.
W. R. MEADOWS is committed to producing products and systems that are environmentally responsible, meet the most current federal, state, and local rules and regulations, and that will have a positive impact on the environment for both current and future generations.
W. R. MEADOWS, INC. designs, manufactures, and markets high quality building materials for today's construction professionals. Products are sold through our authorized distribution network. We are a family-owned and operated company focusing on product quality, business integrity, and outstanding service since our founding in 1926.
We remain committed to producing environmentally-friendly products and systems that meet or exceed the latest regulations. From highway construction and repair, building construction and restoration, to waterproofing/vapor barrier/air barrier products and more, we've been satisfying the needs of the public and private sector of the building construction industry for over 85 years.