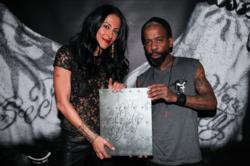 "His phone number is passed around the country like the password to a secret club for the mega-cool."
New York, NY (PRWEB) December 21, 2012
The long anticipated art book Secret Society: Modern Speakeasy Style and Design was launched at a hidden private lounge in Hôtel Americano in Chelsea, Manhattan with a private performance by singer/songwriter Wynter Gordon.
SECRET SOCIETY is a beautifully illustrated book and edited by Christian Alexander, features modern speakeasy style restaurants, clubs and lounges in New York and exclusive venues across the globe. Personal stories revealed by elite nightlife impresarios, including Simon Hammerstein, André Saravia, Mazdack Rassi, Serge Becker, Nur Khan, Mark Baker, Amy Sacco and Vincent Darré, take the reader on an intriguing journey into an alluring underground culture admitting only the most discerning, daring and in-the-know nightlife connoisseur.
Farameh Media is a New York-based publishing house specializing in highly curated art and design publications. Spearheaded by founder Patrice Farameh, an expert in luxury and lifestyle book production, Farameh Media conceives, designs, produces and publishes books with a team of imaginative and forward-thinking talent that can translate any lifestyle concept or brand into a wide range of mediums. The company also recently launched "For Which It Stands: Americana in Contemporary Art" and is recognized for its limited edition art books that are sought after by international collectors.
Christian Alexander is a noted arbiter of nightlife culture, with over twenty years of experience as an exclusive concierge for A-List celebs. As the NY Post describes, "His phone number is passed around the country like the password to a secret club for the mega-cool." His family has ties that go back to Chicago's Prohibition era, and many of his relatives have had careers in the entertainment industry, so it's no wonder that Alexander lives and breathes the society of the night. His involvement is extensive not only in New York but around the globe, jetting off to every major cosmopolitan city to bring his own brand of cool to events and collaborations.
BFA Event Photo Link: http://www.bfanyc.com/home/event/5130
MEDIA CONTACT:
Mashariki Williamson
Tel: 646-807-1810
press(at)farameh(dot)com
To learn more about Farameh Media visit http://www.farameh.com or http://www.facebook.com/curatedcollection