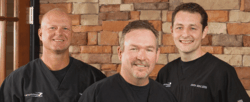 Fort Worth, TX (PRWEB) December 19, 2012
At Fort Worth Dental Dr. Terry M. Zang, Dr. Arthur J. Mund and Dr. Justin Mund now utilize the CEREC method for fillings, crowns and other restorations. CEREC is an acronym with each letter standing for a word: Chairside Economical Restorations Esthetic Ceramic. The whole process can be completed in a single dentist appointment without the use of temporary caps or crowns. The result is a ceramic restoration that matches the natural teeth so that few people would be able to tell the difference.
When a person needs a filling, something must fill the space or hole left behind when decay is removed from a tooth. In the past, many of these dental fillings were made of metal, which over time may require replacement or may even allow for additional decay. The CEREC method utilizes a ceramic material that is designed to look and act like natural teeth. The process begins with an examination by the dentist to determine the type of restoration that is necessary. The tooth is then prepared for the restoration.
Next, the CEREC camera takes a three dimensional picture of the tooth and the software creates a virtual three dimensional model. The dentist manipulates the model on the computer to design the restoration and sends the information to a milling machine, which is also located in the office. An appropriately sized block of ceramic that has been matched to the patient's tooth color is placed in the machine, and within 20 minutes or less it has been shaped to match the computer design.
The ceramic restoration is then fitted to the patient and adjusted as necessary before it is bonded to the tooth that has been prepared. The patient leaves the office with a permanent restoration with no return appointment necessary to finish the process. Patients that have time constraints or challenges getting time off of work for dental appointments appreciate the one-stop visit for fillings and restorations. More information about the CEREC system can be found at http://www.fortworthdental.com.
Fort Worth Dental is a general practice offering patients personalized dental care for Fort Worth, TX. Dr. Terry M. Zang, Dr. Arthur J. Mund and Dr. Justin Mund are all dedicated to their dental practice, which offers the recent FDA cleared laser procedure for gum disease and periodontal treatment. Focused on preventative, restorative and cosmetic dentistry, they each have unique attributes for the practice. To learn more about Fort Worth Dental and their dental services visit their website at http://www.fortworthdental.com.