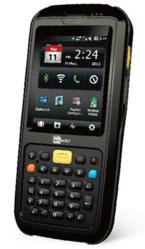 Crafted for the harsh environments of transportation and logistics, warehousing, and field mobility, the rugged CipherLab CP60 series will allow your workers to maximize productivity with the most up-to-date technologies.
Plano, TX (PRWEB) December 20, 2012
While smart device is targeting the corporate customers with the new iOS or Android device, CipherLab is going to launch a new mobile device for tough environments. The CP60 will begin shipping with Windows® Embedded Handheld 6.5.3 operating systems in Q1 2013.
The CP60 is a premier enterprise mobile computer with the most features and functionality in its class and is designed for the harsh environments of transportation, logistics and field mobility.
The CP60 series enables organizations to select the device best suited to meet their business needs while providing the ability to standardize on a single device for workers inside the four walls and out in the field.
The CP60 will come pre-loaded CipherLab SmartShell, enabling custom interface settings; such as widget configuration, shortcut creation, or layout editing. The options menu can be viewed in 3D carousel or tiles view and supports kinetic scrolling for easy navigation. With signature capture software, customers can validate delivery items by signing directly on the device and giving field workers an imaged proof of delivery.
The CP60 enables better management of your mobile workforce. Its flexible wireless communication options keep field workers connected at all times. 3.8G HSPA+ with GPS/AGPS option allows location-based applications with real time navigation. Bluetooth®, 802.11 b/g/n, and 3.8G HSPA+ connectivity let workers communicate with peripherals, to save time and simplify operation while on the job. It provides seamless data transfer as well, keeping systems updated in real-time for the most informed management decisions. For the barcode scanner, CP60 provides the reader options of long range laser, laser and 2D imager can successfully extend the range of capturing data in various environments and applications.
CipherLab's most rugged enterprise mobile computer with advanced performance to enable task workers in rigorous work environments, such as field service, field sales, DSD route accounting, transportation/distribution and government and public service to collect data and access business-critical applications and back-end systems on the spot - ultimately streamlining processes and increasing competitive advantage.
For more details and specifications regarding CipherLab CP60 Enterprise Mobile Computer or request for demo, please send an email to NASales@cipherlab.com or contact our office at 888-300-9779 by phone.
About CipherLab
CipherLab is a global leader in the design, manufacture, and marketing of Automatic Identification and Data Capture/Collection products and systems. The company's mobile computers and scanners are integrated into the networks of some of the world's best known logistics, retail, distribution, government installations and healthcare companies, helping them run more efficiently and effectively onsite and on the road. Operating worldwide, CipherLab is headquartered in Taipei, Taiwan with offices in China, Germany and the USA, and is publicly traded on the Taiwan stock exchange (Taiwan OTC: 6160).