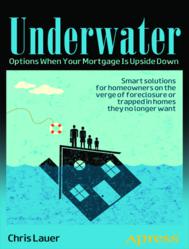 "We're in uncharted waters… More than one in four homes in the US is underwater and about 9 percent unemployment is a recipe for more foreclosures."" ― Stan Humphries, Chief Economist, Zillow
New York, NY (PRWEB) December 20, 2012
A whopping 28.6 percent of homeowners with mortgages owe more on their loans than their homes could sell for, according to quarterly data recently released by Zillow, a real estate website. Over the years, since the housing bubble burst, there have been a number predictions and initiatives made by real estate pundits and politicians but none that have really helped to sort out the crisis for such homeowners.
"UNDERWATER: Options When Your Mortgage Is Upside Down" by Chris Lauer, a veteran financial journalist finally outlines the different options available to home owners in distress: when foreclosure is a good idea, how to best protect the equity you've built up, what the financial repercussions of going into foreclosure are, how other homeowners have been able to turn their mortgages around and rise up from dire circumstances, and how to take advantage of government programs designed to keep you happily housed.
At the same time, this optimism can be difficult to see from underwater. Those who suffer from negative equity need help from people who have worked inside the real estate market long enough to understand its ebb and flow. This book is filled with the advice of experts who know about underwater mortgages from the inside out.
The stories, tips, and advice in this book come from those who have seen enough real estate transactions to know the score. They were there on the front lines when the real estate bubble burst five years ago and they returned with experiences and knowledge that can be vital to underwater homeowners seeking relief from in tough times.
Chris Lauer takes a straight forward approach to the facts, ideas, and advice that can help any underwater homeowner—especially those facing foreclosure—make smart decisions for a better future.
About the Author:
Chris Lauer is a journalist and editor with more than 20 years of experience covering business, news, music, and art. He is also the author of Southwest Airlines (Corporations That Changed the World), Breaking Free: How to Quit Your Job and Start Your Own Business, and The Management Gurus: Lessons from the Best Management Books of All Time. He is also the owner and editor in chief of Lauer Editorial Services (http://www.laueredit.com) where he writes and edits for a variety of businesses and publishers. After graduating with an English Journalism degree from the University of Delaware, where he was a features editor for The Review, he worked as a writer and editor for the SF Weekly in San Francisco. He was also the owner and publisher of Edge City and Anthem Monthly, two local arts and entertainment magazines in Northern California. After that, he worked for the NBC affiliate in Eureka, Calif., KIEM, as a TV news reporter, videographer, and assignment editor. In 2006, Lauer founded Lauer Editorial Services.
About Apress Media
With more than 1,500 books in print and e-formats, Apress is the authoritative source for IT professionals, software developers, and business leaders all over the world. Apress provides high-quality, no-fluff content that helps serious technology professionals build a comprehensive pathway to career success. Since 2007, Apress has been part of Springer Science+Business Media, one of the world's leading scientific, technical, and medical publishing houses, enabling global distribution of Apress publications. For more information, please visit http://www.apress.com.
CHRIS LAUER IS AVAILABLE FOR INTERVIEWS.
To arrange for a review copy of UNDERWATER or to schedule an interview with LAUER, please contact:
Stephanie Carino | Public Relations | (212) 620-8062 | stephaniecarino (at) apress (dot) com
UNDERWATER
Options When Your Mortgage is Upside Down By Lauer was published by Apress on December 17, 2012
Print Price: $29.99; eBook Price: $20.99 | 300 pages | ISBN: 978-1-4302-4470-7