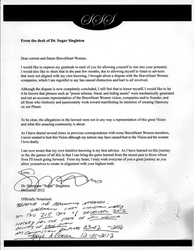 During this passing storm, I remained committed to the BraveHeart Women Vision...Ellie Drake
(PRWEB) December 30, 2012
BraveHeart Women, an inspirational online and offline platform for women, endured a lawsuit that shocked the organization in July, but ultimately left it stronger than ever. Brought about by Dr. Shermann Singleton, one of the community's own members, the incident involved various rumors.
It also resulted in confusion and membership withdrawal by a few, but a strong resolve by many to stay committed to the community's Vision.
"During this passing storm, I remained grounded and fully committed to allowing this process to unfold organically, knowing that the BraveHeart Women's Vision would only be strengthened and expanded," said Ellie Drake, founder of BraveHeart Women. "As the Universe tests our genuine commitment to the journey, we are asked, 'how deeply committed are you?' I know with certainty that the answer we have given has been gratifying because of our unwavering intent to embrace this Vision, regardless of the tests that may have brought with them arrows and stones."
Below is Dr. Singleton's apology:
"I would like to share that in the past few months, due to allowing myself to listen to advisors that were not aligned with my own knowing, I brought about a dispute with the BraveHeart Women companies, which I am regretful to say has caused distraction and hurt to all involved," said Dr. Singleton in a recent apology.
"Although the dispute is now completely concluded, I still feel that to honor myself, I would like to let it be known that phrases such as 'ponzi scheme, fraud and hiding assets' were mechanically generated and not an accurate representation of the BraveHeart Women vision, companies and/or founder.
"To be clear, the allegations in the lawsuit were not in any way a representation of this great vision and what this amazing community is about," she continued.
"I never wanted to hurt this vision, although my actions have caused hurt to the vision and the women I love dearly."
"As I have learned on this journey so far, the genius of all this is that I can bring gems learned from the recent past to those whose lives I'll touch going forward. From my heart, I truly wish every one of you a great journey as you allow yourselves to create in alignment with your highest truth," she concluded.
About BraveHeart Women
BraveHeart Women is a global community that encourages blossoming, prosperity and harmony. Our purpose is to inspire women to Be. Create. and Collaborate. For more information or to join the community, please visit http://www.BraveHeartWomen.com.