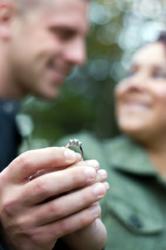 (PRWEB) December 21, 2012
December is the largest month for engagements so many brides and grooms will begin planning their wedding. These 7 steps will save time, money and headaches when coordinating all the details for the big day.
Step 1-Determine what you want
Do you want to have a big celebration? A small, intimate gathering? A wedding with just the two of you? Those are the questions to ask each other first and answer together. Once you have a good foundation of what you want, then it'll be easier to plan your ultimate wedding.
Step 2-Set your budget
Regardless of who is paying for the wedding, have a conversation before you even begin to book or sign on the dotted line for anything concerning your wedding. Write a list of everything you'll need and then include all of the list in the budget., i.e. your wedding dress, gifts for the bridal party, the honeymoon. Then have realistic conversations about what you're parents are willing to give, how much you'll contribute and so on.
Step 3-Select your location for your ceremony and location
One of the first questions you'll be asked is "When is the big day?" which may pressure you to pick a date first, then a location. However, selecting your location first before you choose a date will help save you pressure and scheduling conflicts later on. Your location selection helps to dictate the date of your wedding, the number of guests you can invite, the type of food you can serve as well as the type of décor you can anticipate. All of those location details largely dictate the cost and ultimately your guest list, so location selection and booking reigns supreme. If you have budget concerns, you can talk with the location as to when their rates are reduced. You may be able to book during a shoulder season where you can save up to 30-50% off normal rates.
Step 4-Select your date
Once you've narrowed down your location, you can move forward with confidence selecting your date.
Step 5-Choose your colors
Once you seen the space and get a feeling for where your wedding will take place, choose your colors. The perfect blue hue and silver for example may compliment the space beautifully, or it may look awful. Colors will be easier to choose when you can envision how they will look in your setting.
Step 6-Make you guest list
Once you know how many friends and family your wedding space can handle, and what your budget will allow, make your guest list.
Step 7-Send out save the date cards
It is recommended that you send out save the date cards 6 to 9 months before your event, so this will give your guests great details about your location, accommodations, and local attractions. Emily Post recommends mailing save the dates to guests as soon as the wedding date is known, but, etiquette cautions, "Know that any guest who receives a save the date must receive a wedding invitation."
You can incorporate your colors, photos and have a lot of fun with your save the date cards. If budget is an issue, a great way to save a bit of money is to create save the date post cards which will save you printing costs and postage.
Urbanity Studios is an online stationery design studio offering wedding invitations, save the date cards and more for life's events. Urbanity Studios offers unique invitation designs and personalized stationery. The company offers high quality products at budget friendly prices, exceptional customer service and a 100% satisfaction guarantee. Urbanity Studios specializes in making you look fabulous on paper.
Meghann Kopecky, owner of Urbanity Studios and industry professional has helped plan dozens of weddings and events.