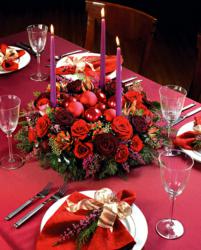 Whether it's a gift or for DIY home décor, colorful fresh flowers and greenery is a thoughtful and beautiful way to express holiday gratitude and cheer.
Los Angeles, California (PRWEB) December 21, 2012
LA Flower District California Flower Mall discount holiday flowers experts give Christmas flower gift tips to help last minute DIY shoppers celebrate their unsung heroes and stretch their gift budget with savings up to 70%. A nationwide poll for the Society of America Florists reveals the top 10 unsung heroes – beyond traditional family and friends – who Americans believe deserve their holiday thanks.
"California Flower Mall supplies wholesale and discount holiday flowers and gifts 7 days a week unlike other LA flower markets in the six-block Los Angeles Flower District. Our convenient hours and free admission elicit gratitude and holiday cheer from time pressed florists and DIY Christmas flower gift shoppers," stated Mark Chatoff, Owner and President of the San Pedro Street California Flower Mall.
"Whether it's a gift or for DIY home décor, colorful fresh flowers and greenery is a thoughtful and beautiful way to express holiday gratitude and cheer." Chatoff added.
Gersain Bustos, owner of Growers Direct at CFM suggests DIY Christmas flower gift alternatives for last minute shoppers. "Folks that need to finish their shopping fast can select ready made or made to order holiday wreaths, flower arrangements, floral centerpieces, and Christmas flower gift bouquets for every budget," Bustos said
The nationwide poll conducted by Echo Research, Inc. for the Society of American Florists ranks the top 10 unsung heroes in Americans' lives and communities they believe deserve holiday thanks.
Ranking atop the list of those who deserve end-of-year appreciation, cited by 53 percent of respondents, are neighbors, who throughout the year pick up our mail, keep an eye on our kids and ground our community roots. Coming in close behind – not surprisingly – are teachers at 51 percent.
According to M.J. Ryan, author of books such as Random Acts of Kindness and Attitudes of Gratitude and her newest book, Adaptability, the exchange of gifts widens our network of friends and builds stronger interpersonal connections, which we inherently desire, particularly in times of stress and uncertainty.
When it comes to expressing gratitude, Ryan believes flowers are one of the most meaningful gifts to share with important people in your life. "There is something special about giving a gift of beauty that shows truly how much you care," says Ryan. "Flowers are attractive, cheerful and are visibly displayed as a constant reminder of your appreciation."
Here's America's Top 10 list of unsung heroes who deserve holiday gratitude according to the poll. DIY discount flowers expert Hilda Jimenez, Operations Director at California Flower Mall shares these tips for gratitude gift giving to unsung heroes, "Christmas poinsettias are predictable and easy. These flower gifts can be just as easy and say thank you much more uniquely:"
1. Neighbors (53%) – Treat a great neighbor to a bouquet of flowers that will make their foyer fragrant.
2. Teacher or tutor (51%) –Create a low clustered flower arrangement that a teacher can keep on their desk and still keep an eye on the class. The flowers will bring smiles to the entire classroom.
3. Co-workers (50%) – Thank an office mate who has been supportive throughout the year with a bunch of multi-colored tulips or other flowers that will brighten up traditionally neutral office walls.
4. Childcare provider (47%) – For the one who cares for your little ones, a great floral gift would be a sweet hand-tied bouquet. Choose a monochromatic (all one color) look that is pleasing to the eye.
5. House cleaner (41%) – Give your house cleaner an arrangement to make their own home look special.
6. Boss (36%) – A mixed arrangement is appropriate for any boss. Choose red, gold and purple-colored flowers which symbolize accomplishment, wealth and good fortune.
7. Postal worker (35%) – When your letter carrier arrives, hand them a small flower arrangement in a basket or small dish garden – what a special delivery.
8. Clergy member (35%) – Serenity and relaxation are the essence of flowers in shades of green and misty blues. Choose tranquil colors to reflect the calm nature of a spiritual counselor.
9. Health care worker (32%) – Consider an arrangement in pastel shades for a health care worker, as these colors make us feel safe, snug and loved.
10. Administrative assistant (31%) – Choose shades of red, which elicit motivation, courage and power. An up-shooting spray that also includes rich orange and fuchsia colors exudes positively.
Just missing the Top 10 list were school bus drivers (28%), pet sitters (22%), crossing guards (21%), school counselors (20%), therapists (16%) and financial planners (10%).
About California Flower Mall
The California Flower Mall located at 825 San Pedro Street is one of the largest premier DIY wholesale flower mart s in Downtown LA's Flower District neighborhood. The six-block Los Angeles Flower District is the largest community of wholesale flower market s and flower businesses in the U.S.