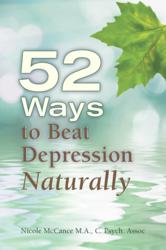 The rate of fatal heart attacks typically increases by 5% between Christmas Day and New Year's Day.
Pensacola, FL (PRWEB) December 20, 2012
Whether someone is dealing with a case of the "holiday blues" or suffering from a more chronic and debilitating form of depression, Nicole McCance wants to help. In her new book, "52 Ways to Beat Depression Naturally", the Canadian psychotherapist draws on Eastern and Western philosophies, relaxation techniques, nutritional and exercise strategies, sleep therapy, and other means of combating depression – all without a pill in sight. The book, set for release on Blue Monday, January 21st, by Indigo River Publishing, seeks to provide time-tested techniques for healing one's psyche naturally in a world overrun with pharmaceutical solutions.
McCance, a veteran of the Canadian talk show circuit, is currently making the media rounds in North America, discussing the specifics of taking on the dreaded holiday blues. She points out that, statistically speaking, holiday stress can be a real killer. "The rate of fatal heart attacks typically increases by 5% between Christmas Day and New Year's Day," she says.
The 52 techniques for beating depression that McCance unveils in her upcoming book can be used in any season, however, and they're meant to be concise, easy to understand, and accessible for readers. She has great confidence in the proven benefits of each of the techniques. "Just try one, and you will feel the difference," she says. Having spent more than a decade specializing in the treatment of depression, McCance has empathy for readers who are suffering. "You can be happy," she says. "It starts with just one step in the right direction."
McCance wants to help, and to help quickly, it seems, but she does take the time to reference icons of positive thinking – from Buddha to Mother Teresa - in her efforts to reach readers. The book opens with this Dale Carnegie quote: "Most of the important things in the world have been accomplished by people who have kept on trying when there seemed to be no hope at all." McCance is clearly doing what she can to provide some hope for those who need it, in 52 easy-to-digest ways.
Nicole McCance, M.A. is a fully licensed Psychotherapist and author. She has been a frequent contributor to media outlets such as CP24, CTV News, CTV National, Global TV, CBC News, Rogers, CBC Radio, the Toronto Star, and Canadian Living. She is also the relationship expert on Season 2 of the Cosmo television show "Love Trap".
For more information on the book "52 Ways to Beat Depression Naturally", visit http://www.indigoriverpublishing.com.