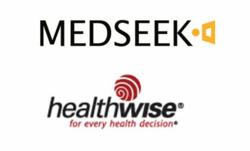 "Equipping patients to be informed participants in their care is imperative to us in our goal to develop healthier populations," said Dale Edwards, Executive Vice President, MEDSEEK.
(PRWEB) December 19, 2012
Recognized industry leader in patient education,Healthwise® solutions, and MEDSEEK™, healthcare's only strategic patient engagement platform provider, will partner to provide a seamless experience for hospitals to engage individuals in their health with interactive, educational tools.
Using a vendor-agnostic approach, MEDSEEK will expand its health content offerings to include the Healthwise® Patient Engagement Solution. The solution includes Healthwise® Patient Instructions for any moment in care, online virtual health coaching, Healthwise® Care Support Pages for follow up to health care interventions on the phone, and Healthwise® Mobile Symptom and Condition Modules to reach people on their mobile devices. These powerful tools will help healthcare organizations meet Meaningful Use patient engagement objectives by providing patient-friendly health content and videos coupled with a dynamic, interactive patient portal.
"Equipping patients to be informed participants in their care is imperative to us in our goal to develop healthier populations," said Dale Edwards, Executive Vice President, MEDSEEK. "By incorporating Healthwise content in our MEDSEEK Convert and Empower solutions, we are pleased to expand our tools supporting consumer involvement in their health."
"More and more people look first to their own devices—smartphones, laptops, tablets—for reliable help understanding their health," said Jim Giuffré, Healthwise President and COO. "With MEDSEEK, people can easily get to our action-oriented tools and patient-friendly information when and where they need it so they can manage their health on their own and with their doctors."
With access to essential follow up information, secure messaging, health trackers, Medical and Health record tools and educational content in one secure online location, patients are empowered with the knowledge to understand and stick with their treatment plan, positively influencing recovery and disease management efforts. By integrating the Healthwise Patient Engagement Solution with MEDSEEK's consumer and patient solutions, individuals will have a one stop shop to view, interact with, understand and manage their health online.
To gain further insight on how your healthcare organization can enhance patient and consumer engagement with a seamless experience, contact MEDSEEK at marketing(at)medseek(dot)com or 1.888.MEDSEEK.
About Healthwise
Healthwise is a nonprofit organization with a mission to help people make better health decisions. People have turned to Healthwise information more than a billion times to learn how to do more for themselves, ask for the care they need, and say "no" to the care they don't need. Healthwise partners with hospitals, electronic medical record (EMR) providers, health plans, disease management companies, and health websites to provide up-to-date, evidence-based information to the people they serve. For more information about Healthwise, visit http://www.healthwise.org or call 1.800.706.9646.
About MEDSEEK
Since 1996, MEDSEEK has focused exclusively on creating a strategic patient engagement platform comprised of web, mobile, social and predictive analytic solutions. The MEDSEEK Engage platform provides an integrated set of capabilities to help organizations significantly influence healthcare consumer behaviors to drive revenues, contain costs and better balance the financial equation, while simultaneously empowering individuals with the personalized information and tools they need to serve as active participants in their health. With MEDSEEK technology, hospitals and health systems can better predict the needs of their patient population, uncover new sources of revenue, empower patients and families as participants in their care, lower healthcare costs and provide a superior online healthcare experience that results in lasting health-related loyalty. MEDSEEK has over 200 customers representing over 1,100 hospitals including many of the top hospital systems in the United States and Canada.