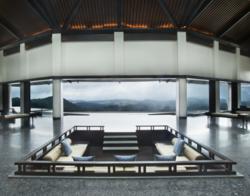 Vivanta by Taj – Madikeri, Coorg is Taj Group's first hill station hotel. It presents a 'private Eden' location in the clouds and a soothing, minimalist design brimming with organic conservation efforts.
Madikeri, Coorg, INDIA (PRWEB) December 20, 2012
Vivanta by Taj – Hotels & Resorts announces the opening of Vivanta by Taj – Madikeri, Coorg, the 25th hotel to open since the brand launched in 2010 and the fourth to open in 2012.
At an altitude of 4,000-feet on 80 lushly landscaped areas just four miles from the charming hill station of Madikeri amidst tea, coffee and cardamom plantations in the southwest, the property is an oasis in an area often called "the Scotland of India." It is an inspiring retreat for nature lovers and hard working travelers who seek to unwind amidst panoramic vistas of the Western Ghats, imposing mountains with dense canopies and verdant valleys.
"Vivanta by Taj – Madikeri, Coorg is Taj Group's first hill station hotel. It presents a 'private Eden' location in the clouds and a soothing, minimalist design brimming with organic conservation efforts. Guests are introduced to unique activities ranging from luxurious to adventurous, including earth clay craft, adventure trails and survival training. The hotel also offers a Coorg star-gazing conservatory and destination-cued dining and cultural motifs," said Raymond N. Bickson, Managing Director and CEO, Taj Hotels.
The eco-conscious property, with 63 luxury rooms and villas, was carefully situated to be respectful of its pristine location. Bricks and paints were hand-made on-site using displaced topsoil. The buildings and furnishings were fashioned from recycled and restored woods, and low-energy LED and CFL lighting is used throughout.
Spacious villas are noteworthy for their exquisite design, panoramic views and memorable touches, such as wood-burning fireplaces in each room:

The Luxury Bliss Villas are spread over 3,300-square-feet and include indoor pools and retractable sun-roofs
The 9,000-square-foot Presidential Nirvana Suite offers three bedrooms, a swimming pool and a private poolside pavilion, and a central courtyard that is fully equipped for in-suite dining
Even the smallest villa is 750-square-feet, with windows on three sides
All interiors feature muted colors and indigenous designs by local tribes, who revived traditional crafts to create items such as lighting fixtures in guest rooms and public areas that reflect fish traps used in brooks and rivulets, cane artifacts and hand-crafted furniture
The hotel's 30,000-square-foot Jiva Grande Spa offers experiences rooted in the region:

It unfolds with an unusual layered design; located in the main lobby block, it spreads over three floors with stunning rainforest views
The expansive spa and wellness space includes private treatment suites with their own steam and showers, a climate-controlled indoor swimming pool and a relaxation deck, yoga room, activity center and wellness cafe
The wood-fired Gudda Bath in an outdoor pavilion is the signature Jiva experience, drawing from the local ethos of Coorg and found in traditional households of the region
Inventive dining, cooking and entertainment options include:

Nellaki Restaurant, featuring local Coorg specialties
The Fern Tree with breathtaking views
Dew, with its innovative Wellness Kitchen, offering health-conscious organic treats
The Hive bar for the finest of spirits and signature Vivanta Fuse Cocktails
The bar and grill at the outdoor pool in the woods with views of the sunset and starry night skies, perfect for evening sundowners
The hotel even offers an extensive organic herb garden and teaches guests to make homemade preserves at the on-site strawberry farm
Signature Vivanta Motifs, a brand hallmark to showcase the local destination with a strong sense of place in highly customized ways based on guests' interests, offered at Madikeri include:

Meditation at the Buddha Garden or a saunter through the strawberry farm
A cultural performance at the amphitheatre or a therapeutic clay modeling session
Quiet moments to savor the resort's private label line of locally harvested and roasted coffee
Outdoor adventures such as slush sport, off-road biking, ravine crossing, zip line, camping and astronomy, or the ultimate active pursuit, trying to win the Vivanta Octathlon certificate
Learning to interpret an elusive rainforest with the hotel's "rainforest insider" complete with spotting star birds on the grounds
Exploration of the surrounding rainforest, a hotspot of biodiversity that is home to over 350 species of flora and fauna with hikes to Nishani Betta, the highest peak in Coorg, or off-road biking or off-trail camping with a barbecue
Discover Vivanta
Work hard and play hard. Relax and energize. Ideate and confer. Evolve and transform. Revel in a spirit that presents the normal with an unexpected twist. Stylish and sophisticated, Vivanta by Taj delivers premium hotel experiences with imagination, energy and efficiency. Currently comprised of 25 hotels and resorts in India and the Indian Ocean region, Vivanta by Taj is represented across key metropolitan capitals as well as popular holiday destinations like Goa, Kerala, Rajasthan, Sri Lanka and the Maldives. Vivanta by Taj offers an imaginative, vivacious and stylish take on "cool luxury." With innovative cuisine, energetic spaces, unique motifs, the smart use of technology and experiences that seek to constantly engage, invigorate and relax, it appeals to the cosmopolitan world-traveler immersed in a sensory lifestyle.
Stay connected to Vivanta by Taj Hotels & Resorts.
Follow us on Twitter: http://twitter.com/vivantabytaj
Face book: http://www.facebook.com/vivantabytaj
You Tube: http://www.youtube.com/vivantabytaj
About Taj Hotels Resorts and Palaces
Established in 1901, Taj Hotels Resorts and Palaces is one of Asia's largest and finest group of hotels, comprising 99 hotels in 56 locations across India with an additional 16 international hotels in the Maldives, Malaysia, Australia, UK, USA, Bhutan, Sri Lanka, Africa and the Middle East. From world-renowned landmarks to modern business hotels, idyllic beach resorts to authentic Grand Palaces, each Taj hotel offers an unrivalled fusion of warm Indian hospitality, world-class service and modern luxury. For over a century, The Taj Mahal Palace, Mumbai, the iconic flagship has set a benchmark for fine living with exquisite refinement, inventiveness and warmth. Taj Hotels Resorts and Palaces is part of the Tata Group, India's premier business house. http://www.tajhotels.com
# # #