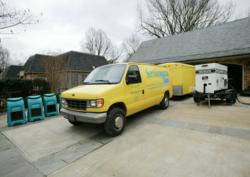 ServiceMaster Elites number one objective is to restore the customer's property and peace of mind at the same time.
Atlanta, GA (PRWEB) December 21, 2012
ServiceMaster Elite provides serveral services such as fire and water damage restoration, mold removal, carpet cleaning, water extraction, trauma clean up, tile and grout cleaning, and much more. Several North Georgia ServiceMaster have been in talks for months coming up with ways to improve the quality of service in cities like Atlanta, Roswell, Lawrenceville, Marietta, Athens, Conyers and surrounding cities.
ServiceMaster Elites main focus is get people back to normal as quickly as possible and minimize the stress that come after a disaster has occurred. The Atlanta Metro area is highly competitive when it comes to water damage, fire damage, carpet cleaning and mold remediation services. Improving response time will help ServiceMaster Elite give top quality service to more customers in 2013.
Emergency Services
In the event of an emergency such as a fire or flood, most people want to get the problem fixed as fast as humanly possible. Whether there's damage from a storm, grease fire, flooding from frozen pipes, water heater leaks or toilet overflow; the last thing a person wants to hear from a water damage company is wait. North Georgia ServiceMasters have come together with a goal to improve already fast response times by 10-15 minutes. The faster they can get a technician on the job, the sooner the mitigation process can begin.
Cleaning Services
ServiceMaster Elite also offers cleaning services such as carpet cleaning, tile and grout cleaning, mold removal and property cleaning for homes or business. In the pass 3-5 years mold in bank own properties has increased due to unoccupancy, so when one of these properties rent or sale, getting them cleaned fast is a high priority. The sooner a property is cleaned and occupied the faster a bank can be freed from financial obligations.
ServiceMaster initiative to improve response time is truly why they are considered to be one of the best in the industry. For more info search ServiceMaster Atlanta or call ServiceMaster Elite toll free at 1-855-476-3548 to speak with a qualified technician today.