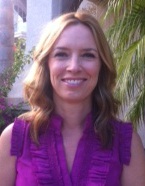 I cannot believe I have the opportunity to work for Oaks Christian Online School; this is where God has placed me.
Westlake Village, Calif. (PRWEB) December 21, 2012
Christy Cleugh, online Course Developer for Oaks Christian Online High School, has just completed a three-week-long, K-12 Course Reviewer Training with Quality Matters(QM), a leading program in quality assurance for online education.
This second course in a two course series allows Mrs. Cleugh to be part of QM's research-based, peer-review process for certifying the quality of online and blended courses. QM subscribers include many universities, K-12 school systems and other academic institutions. Mrs. Cleugh has been excited to learn about the depth and richness that a quality online course should have and to actively apply the QM rubric and standards to examples of other online courses.
She says: "This process helps us improve the quality of online high school courses at Oaks Christian Online School."
Mrs. Cleugh received her B.A. from Cal State Fullerton in Ethnic Studies along with her multiple subject teaching credential with a bi-lingual emphasis. After teaching for six years in immersion and guided-reading programs, Mrs. Cleugh received her M.A. in Psychology at Pepperdine University in order to better understand the many socio-cultural issues facing her students outside the classroom. After receiving her administrative credential, Christy taught reading methodology classes at Long Beach State University and supervised student teachers.
Eventually, Mrs. Cleugh became fascinated with many online homeschool families who were turning to technology for alternative forms of education. She taught for an online school and, by seeing the students through their parent's perspective, came closer to her online students than she had been able to with her in-class students. Mrs. Cleugh went on to online high school leadership, teacher effectiveness training, and business and product development as a Chief Learning Officer.
She is currently completing her Doctorate of Education at Pepperdine with an emphasis on how we use technology to learn and is grateful for all the varied learning opportunities that she has had that have brought her to this point.
She says, "I cannot believe I have the opportunity to work for Oaks Christian Online School; this is where God has placed me. It is a great blend of an educational and business model where I have the freedom to do an excellent job with no shortcuts."
The main campus of Oaks Christian School in Westlake Village, CA opened in the fall of 2000 and Oaks Christian Online School (OCO) opened for full-time, online students in the fall of 2011. The online school provides a rigorous and challenging college preparatory education for high school students all around the world in a Christian environment. Oaks Christian Online School continues to enroll part-time and full-time students throughout the school year and regularly hosts information sessions on its main campus – 31749 La Tienda Drive, Westlake Village, CA 91362, as well as virtual information sessions for prospective student families. Interested students can visit the website http://online.oakschristian.org to R.S.V.P.
For additional information about Oaks Christian Online School, its courses, curriculum, admissions or application process, please visit http://online.oakschristian.org, call 855.462.6257, or contact a school representative at online (at) oakschristian (dot) org.