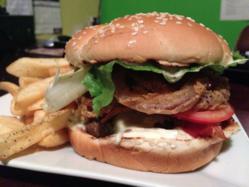 We love to entertain at Eden's Lounge
Baltimore, Maryland (PRWEB) December 20, 2012
Eden's Lounge is well known for its nightlife, happy hours, excellent deejays, and sophisticated atmosphere. As Richard Gorelick says in his article,Fine Food at Hip Eden's Lounge, "Eden's Lounge has a Kitchen and a pretty talented one too". The menu at Eden's Lounge contains Ethiopian entrees as well as some comfort foods. Eden's Lounge menu also contains some very tasty bar bites. Some of the most popular items on the menu are the Ethiopian Beef Tibs, Tilapia, Fish Tacos, & mango shrimp. Eden's Lounge also uses Ethiopian spices in the comfort foods and sea foods as well.
After President Obama was re-elected for his second term, owner Helen Metaferia wanted to join the other restaurants around the country and create an Obama burger at Eden's Lounge. After trying several different burgers, Chef Marvin came up with the Eden's Lounge Obama Burger: Ground beef seasoned with special spices, crumbled blue cheese, onion rings, tomato, bacon, and mayonnaise. The Obama Burger is only available on Thursdays and will cost only $7. Every Thursday a live band comes and jams everything from smooth jazz & love ballads to r&b and Hip Hop songs. Check the Eden's Lounge website to see what band is performing.
"Bring a date, friends, or the office" says owner Helen, "Everyone loves the fact that they can come to Eden's Lounge and get some very tasty food and cocktails with friends, dance to some grooves, and socialize without worrying about disturbing the tables next to them". "We love to entertain our customers," says manager Kareema Brunson. Check the website for the dress code though; Eden's Lounge has a strict dress code.
Eden's Lounge
Eden's Lounge, opened 2005, is located in the heart of Mt. Vernon, Midtown Baltimore, Eden's Lounge has been leading Baltimore nightlife for over seven years. Eden's Lounge boasts very tasty appetizers and entrees, including Ethiopian entrees. Eden's Lounge has also become known for it's happy hours and nightlife. Attracting diners and party goers from all over the world, Eden's Lounge has become internationally known as the place to be if you are looking for good food, cocktails, and entertainment. Eden's Lounge has been recognized by major Media Outlets as one o the top bars/lounges in Baltimore. For more information about Eden's Lounge, go to http://www.edenslounge.com or call 410.244.0405
# # #
If you'd like more information about this topic, contact Harold Edwards at he(at)edenslounge(dot)com or go to http://www.edenslounge.com