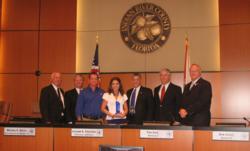 It's quite an honor to represent this area
Vero Beach,FL (PRWEB) December 21, 2012
The board of county commissioners along with other town heads gathered together during this week's meeting and had a special guest to honor. Girard Equipment, having earned the Governor's Export Excellence Award and created over 20 plus jobs in the local market, was a shining success story to the group of influential men dedicated to the continual growth of Indian River County.
"It's quite an honor to represent this area," boasts President of Girard Equipment Timothy Girard. The growing company highlighted for their export expansion from $8-$19 million, manufactures pressure relief valves and vents for tanks of all kinds in order to safely transport hazardous liquid. The demand for safer protocols on a global scale along with strategic worldwide offices has made Girard's parts a valuable asset to those in the industry.
The blue and clear glass award now sits proudly in the office of Mr. Girard and serves as a subtle reminder that when one thinks globally they must act locally. Girard Equipment has a firm belief in giving back whether it is through charitable donations such as the all new HETY Award (Helping Equip Today's Youth) or through continued job creation; GEI enjoys the satisfaction in helping others while being able to expand. Find out more about Girard Equipment and access catalogs, blogs, and more at http://www.girardequip.com.