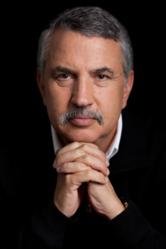 Sacramento, California (PRWEB) December 27, 2012
New York Times Columnist, Thomas Friedman will be appearing as part of this year's Sacramento Speakers Series on Tuesday, January 8th. The six-part lecture series showcases contemporary insights from some of today's most influential figures. The series' last speaker, President Bill Clinton, has series patrons energized and ready for more inspiring words from upcoming presenters. Friedman will share his thoughts when he speaks at the Community Center Theater, located in downtown Sacramento.
In addition to Friedman's twice-weekly column for the Times, he is also an author, journalist and three-time Pulitzer Prize winner. He has written extensively on foreign affairs to include global trade, the Middle East, globalization and environmental issues. He is the writer that the public looks to for straight talk and reliable information.
Friedman's latest book, That Used To Be Us, offers a wake-up call and an appeal to collective action. The book analyzes America's four major challenges; globalization, the revolution in information technology, the nation's chronic deficits, and the pattern of excessive energy consumption, while contending that the recovery of American greatness is still within reach. From Beirut to Jerusalem (1990), Thomas Friedman's first book, was recently re-released in early December. It is considered to be a now-classic piece of journalism. Through rich narration, history, analysis and autobiography it will shape how the world sees the Middle East for years to come.
Friedman is one of two speakers to visit Sacramento this January as education reform advocate, Michelle Rhee comes to speak on Tuesday, January 29th. Rhee's appearance is one not to be missed as her work often provokes many differing thoughts and opinions of educators across the nation.
The event will be held at the Community Center Theater in Downtown Sacramento at 8:00 pm on Tuesday, January 8th. Doors open at 7:00 pm.
For more information about the Sacramento Speakers Series and the 2012-2013 Season visit them online at sacramentospeakers.com.