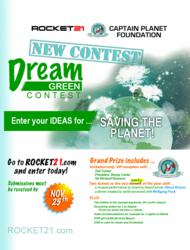 The depth of concern for the environment demonstrated by the students who entered the competition, along with their understanding of issues and challenges facing the planet, far surpassed our expectations," said Rocket21 President Jodell Seagrave.
San Francisco and Atlanta (PRWEB) December 20, 2012
Rocket21™ (the new social network where kids explore amazing possibilities for their lives and futures) and the Captain Planet Foundation (supporting hands-on environmental projects for children and youth), announced the names of four Grand Prize Winners in the Dream Here – Dream Big - Dream Green Contest, a national essay and video competition to increase awareness of green careers and sustainable lifestyle choices among GenerationZ youth.
The Dream Green competition – one segment in Rocket21's ongoing Dream Here, Dream Big, Dream Now Series – invited submissions from middle school and high school students across the United States. Ten students were selected as National Finalists. Grand Prize Winners include:
**Kate Diaz, age 15, Illinois. Diaz' winning entry "Down to Earth" is an original song, performance, and video. Kate's video was presented in its entirety at the Captain Planet Gala at the Georgia Aquarium on December 7th.
**Camille Schmidt, age 16, New York. Schmidt's winning entry is a video showcasing the importance of educating girls in Africa in general; and in particular regarding the impact of environmental issues on their continent.
**Piper Holland, age 10, California. Holland's winning entry is "The Earth Saver's Club for Kids" and related website - a fully functioning club and web destination for kids to share their earth-saving ideas and actions.
**Tommy Whiteley, age 13, Connecticut. Whiteley's winning entry is an idea for equipping ocean-going barges with mechanisms that function like the feeding processes for baleen whales, to filter plastics from the ocean, protecting ocean-dwelling creatures and sea birds.
All of the winning entries may be viewed by clicking this link.
Each of the students traveled to Atlanta on December 7th, for the opportunity to attend a private book signing event for Roger Moenk's "I Am Eco-Warrior" publication and to tour The Georgia Aquarium before attending the Captain Planet Foundation Gala. The students had the opportunity to meet many distinguished environmentalists and luminaries including Former President Jimmy Carter, Sir Richard Branson, Ted Turner, EPA Administrator Lisa P. Jackson, and oceanographer Sylvia Earle. The students also had the opportunity to talk backstage with 27x GRAMMY Winner Alison Krauss, who performed at the event. All four students have been offered an environmental reporting internship with Rocket21 for 2013.
"Rocket21 is about supporting all kids' dreams, every single day, through partnerships with world-class organizations, experts, and opportunities to inspire our members' imaginations and extend their passions. The depth of passion and concern for the environment demonstrated by the students who entered the competition, along with their substantive understanding of the issues and challenges facing the planet, far surpassed our expectations. " said Rocket21 President and COO Jodell Seagrave. "The kids' experience at the Gala was magical – no doubt the evening inspired and motivated them to pursue their dreams."
Hundreds of experts from hundreds of fields are participating as Rocket21 PROs. They include explorers, artists, ecologists, business executives, entertainers, scientists, engineers, nurses, doctors, educators, and more – people who do some of the amazing things kids dream of doing.
"When Ted Turner created Captain Planet twenty two years ago, he realized that our kids can either inherit a legacy of wastefulness or an action plan to save our planet. That kind of passion exactly mirrors the student membership of Rocket21. Our mission is to inspire, create and empower the environmental stewards of tomorrow and this is a great way to spread the word," said Leesa Carter, Executive Director, Captain Planet Foundation.
To compete, Rocket21 student members shared their ideas for how to reduce air pollution, keep drinking water clean, help keep oceans and its habitat safe, conserve energy, or other ways to protect the planet. In an effort to connect kids' big ideas with personal responsibilities, each was asked to share ways in which their daily activities contribute to conservation and stewardship of the planet. Taking into consideration the different ways in which kids express themselves, four options to enter the contest were offered – writing, art, photos, or videos.
Executives and board members from Captain Planet Foundation and Rocket21 served as judges. Four students (plus parents) attended the Captain Planet Benefit Gala in Atlanta.
About Rocket21
Rocket21 provides unprecedented access to world-class experts and organizations while protecting them with a combination of state-of-the-art, real-time filtering and human moderation, extensive safety and security precautions, and a specialized infrastructure designed to keep kids safe.
Like Rocket21 on Facebook and Follow @Rocket21 on Twitter. For more information about Rocket21, please contact Media Relations at media (at) rocket21 (dot) com or jodell (at) rocket21 (dot) com.
About Captain Planet Foundation
Based on the critically-acclaimed cartoon series, Captain Planet and the Planeteers, the Captain Planet Foundation (CPF) was co-founded in 1991 by Ted Turner and Barbara Pyle. The mission of CPF is to give the next generation of environmental stewards an active understanding and love for the natural world in which they live. Our unique program of funding and supporting hands-on environmental projects is designed to encourage innovative initiatives that inspire and empower children and youth around the world as they work individually and collectively creating environmental solutions in their homes, schools and communities. For more information on the Foundation, call 404-522-4270 or visit http://www.captainplanetfdn.org.