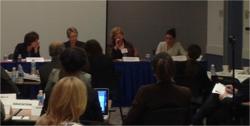 Washington, DC (PRWEB) December 20, 2012
The US Department of Transportation gathered interests that included key individuals representing organizations working toward the attraction, retention, and advancement of women in transportation last week. The forum, which convened on Dec. 14, 2012, was called "Women in Transportation in the Asia-Pacific Economic Cooperation (APEC) Region" and was coordinated by USDOT's Susan Kurland, Assistant Secretary for Aviation and International Affairs.
The mission of the forum, which included approximately 75 individuals invited to represent varying interests and experiences in the transportation industry--government, industry, associations, and academia--was to facilitate a discussion about ways to strengthen the role of women in the transportation sector within APEC.
The forum began with a welcome and overview presentations by Ray LaHood, Secretary of Transportation, U.S. Department of Transportation (USDOT), John Porcari, Deputy Secretary of Transportation, USDOT, forum chair Susan Kurland, and Arlene Turner, Lead Shepherd, APEC Transportation Working Group.
Following the opening remarks were key presentations regarding the current state of women in transportation in the US and preliminary research on the APEC region. The survey of data and trends in APEC economies were present ed by Latifa Lyles, Acting Director, Women's Bureau at the Department of Labor (DOL), and Tonya Giannoni, COO, DevTech Systems, Inc.
Marcia Ferranto, WTS International President and CEO, was an integral member of the panel discussion titled "Promising Practices and Challenges for Women in Transportation in the APEC Region." The full list of panelists included:

Moderator: Susan Kurland, Assistant Secretary, U.S. Department of Transportation
Marlise Streitmatter, Deputy Chief of Staff, USDOT
Lytana Kids, Vice President of Global Workforce Planning Manager, UPS
Allison Bondanza, National Center for Intermodal Transportation, University of Denver
Marcia Ferranto, President and CEO, WTS International
For the working session of the forum, Bryna Helfer, Director of Public Engagement, USDOT, broke the forum guests into eight distinct groups that brainstormed actionable ideas to strengthen the role of women in transportation. The facilitated exercise generated conversations and possible partnerships to leverage successful programs in the US and abroad.
Forum participants will meet several more times to take the results of the initial forum to the next level of fruition.
WTS International, headquartered in Washington, DC, seeks to attract, retain, and advance women in transportation. As the industry's premier multi-modal association, WTS boasts a network of approximately 6,000 transportation professionals—women and men from across the United States, Canada, and Great Britain--and it's growing globally. Every transportation mode is represented, as is every service within the industry. From federal leaders to engineers and planners, the WTS membership base represents nearly 1,500 companies and 400 agencies in more than 90 cities. More information can be found at http://www.WTSInternational.org.