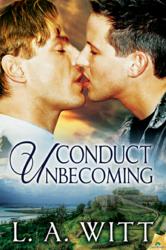 "We've been honored to publish several L.A. Witt novels, and we're thrilled to see her gain recognition for her latest Samhain work, CONDUCT UNBECOMING," said Faber. "We look forward to continuing to take part in her writing success."
Cincinnati, OH (PRWEB) December 21, 2012
International publisher Samhain Publishing® today announced that author L.A. Witt's military male/male romance, CONDUCT UNBECOMING, was featured by reviewer Mandi Shreiner in USA Today's Happy Ever After blog as a recommended read. Witt's contemporary erotic novel focuses on the developing relationship between an enlisted man and an officer, still a taboo even in the post-'Don't Ask, Don't Tell' era. In her review, Shreiner shares that: "L.A. Witt writes a really hot book and her voice is one that I can't get enough of. I'll definitely be hitting her back list."
According to Samhain publisher, Lindsey Faber, Witt's latest work continues her fan-favorite writing style. "We've been honored to publish several L.A. Witt novels, and we're thrilled to see her gain recognition for her latest Samhain work, CONDUCT UNBECOMING," said Faber. "We look forward to continuing to take part in her writing success."
CONDUCT UNBECOMING (http://store.samhainpublishing.com/conduct-unbecoming-p-7039.html) is one of hundreds of m/m romances available at Samhain Publishing, spanning contemporary, alternate worlds and historical genres. To learn more about this title and all Samhain books, and to order books at a special discounted rate, visit the publisher online at http://www.samhainpublishing.com.
About Samhain Publishing
Launched in 2005 with a vision of bringing extraordinary fiction to compulsive readers (who sometimes can't wait for a book to actually be printed), Samhain Publishing® is an international publisher of e-book and traditional print fiction. One of the most prominent voices of original e-book fiction, Samhain represents some of today's brightest authors of romance and horror fiction. To learn why at Samhain "it's all about the story…", visit Samhain Publishing online at http://www.samhainpublishing.com.