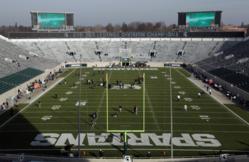 Michigan State is an excellent example of how the Lighthouse and Panasonic partnership can revolutionize one of college football's great facilities.
Irvine, CA (PRWEB) December 20, 2012
LED Display leader Lighthouse and Panasonic have installed Lighthouse Impact 16 LED displays and two sets of LED video fascia at Spartan Stadium in East Lansing, Michigan, home of Michigan State Spartans football.
Spartan Stadium is in its 89th season as home to Michigan State football. Since its opening in 1923, Michigan State has won 69 percent of its games played in Spartan Stadium. In 2005, the natural grass playing surface in Spartan Stadium earned Field of the Year honors from the Sports Turf Managers Association, and the stadium has been listed as one of the nation's most scenic venues. To Spartans fans, the stadium represents a tribute to Michigan State's football past and a vote of confidence in its future. Prior to the 2012 season, Michigan State cast a vote of confidence to Panasonic and Lighthouse, installing new HD LED displays, scoreboards and a new sound system at Spartan Stadium. The $10 million project replaced a 14-year-old scoreboard, message board and audio system.
"The project required massive construction in order to get the products in place," said Jim Doyle, President of Panasonic Eco Solutions North America. "Panasonic's partner ICON HD managed the construction elements of the project extremely well to achieve a very aggressive schedule."
The project, a collaboration of Panasonic, the world's largest electronics manufacturer, and Lighthouse, the leader in LED display technology, features a new scoreboard/video screen in the south end zone measuring 5,300 square feet, the largest in the Big Ten conference. In the north end zone, two LED video displays provide 1,654 square feet of stunning LED video per display, and a one-of-a-kind, 450-feet long LED video wall spans the north end zone, providing animations, video, sponsor messages and live statistics and scores on 4, 500 square feet of brilliant LED video. Combined, the north and sound end zones deliver entertainment and information to Spartans fans on 13,300 square feet of Panasonic/Lighthouse LED displays.
"Lighthouse's collaboration with Panasonic at Spartan Stadium resulted in a unique, spectacular LED video installation," says Ed Whitaker, Lighthouse N.A.S.A. Director of Sales. "This past season, Michigan State fans have enjoyed a game day experience like no other."
Spartan Stadium's main LED display is built with Lighthouse's stunning Impact 16 LED video panel, the United States' first waterproof SMD LED video chip for outdoor applications. With a wider viewing angle than non-SMD products, 6000+ nits brightness levels and a significant price advantage, the Impact series is ideal wherever long viewing distances are required, such as sports arenas, outdoor digital signage, advertising billboards, shopping malls and theme parks. Lighthouse's Impact series offers a large panel for quick installation, is IP65 rated, and provides front and rear access and easy-release IM structure for simple maintenance. The Impact 16's 16-bit processing technology heightens brightness levels, color contrast and image quality, making it ideal for indoor or outdoor venues with bright ambient light.
"Lighthouse's LED display technology, combined with Panasonic's broad array of product technology and services, makes today the best time to be a sports fan," Ed Whitaker adds. "Michigan State is an excellent example of how our partnership can revolutionize one of college football's great facilities."