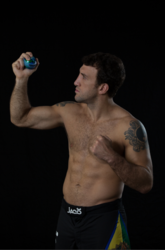 Professional MMA fighter Igor Gracie says, Once I make sure I get a hold of my opponent he's not going anywhere, it's the best piece of equipment you can get!
Anaheim, California (PRWEB) December 20, 2012
Sports rehabilitation and fitness company, DFX Sport and Fitness sheds light on the importance and benefits of weight training and strengthening and how to incorporate it into a daily routine.
While the benefits of weightlifting have been somewhat of a controversial topic in the fitness industry over the years, there has been a lot of new scientific research that has proved the effectiveness of incorporating the routine into a workout regimen.
Weightlifting is now known to have multiple benefits including the following:
1. Helps to regress obesity and resolve metabolic disorders.
2. Creates non-bulky muscles that have stronger fibers.
3. Decreases the susceptibility of many different types of diseases:
a. Metabolic syndrome [linked to cardiovascular diseases and diabetes] (presentdiabetes.com/etalk/New-Study-When-Weight-Lifting-t7050.html?section_id=1#-1)
b. Alzheimer's – resistance training causes a rise in brain usage, and helps improve memory while keeping the brain sharp (healthland.time.com/2012/07/16/mind-those-reps-exercise-especially-weight-lifting-helps-keep-your-brain-sharp)
c. Parkinson's – improves the motor symptoms of Parkinson's disease (aan.com/press/index.cfm?fuseaction=release.view&release=1028)
DFX Sport and Fitness' new upgraded line of gyro fitness products make it easy for people to incorporate weight training into their workout routines. Their line of health and fitness gyros (http://mydfx.com/categories/health-and-fitness) provides a modernized version of weight training that doesn't require the physical usage of weights. Through its use of variable dynamic resistance building with the machines' internal gyroscopes, their full range of resistance training products provide the best workout in a fraction of the time.
About DFX Sports and Fitness:
DFX Sports and Fitness is the original leader and innovator of gyroscopic fitness products, manufacturing a wide range of rehabilitation training and fitness tools through their patented gyro technology. They are the original creator and manufacturer of the patented Powerball Gyro. Established in the late 1970's, DFX has revolutionized the way people improve their physical fitness and is UAL Logo Certified, military endorsed, and PGA Tour Partners Club Member tested and approved. For more information, please visit: http://www.mydfx.com.