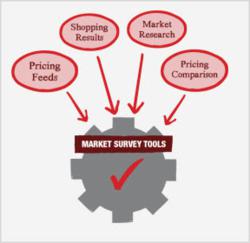 No-cost upgrades are most welcome during these difficult economic times.
DALLAS, TX (PRWEB) December 20, 2012
MarketSurveyTools.com users have recently noticed upgrades appearing inside their apartment market survey software. No-cost upgrades are most welcome during these difficult economic times, especially when focused on sharpening a competitive edge.
MarketSurveyTools.com is a sophisticated, business intelligence program that creates a competitive market profile and comparable analysis. It references pertinent pricing data available online and generates some magnificent reports in presentation format. Being web based, it eliminates many of the difficulties associated with desktop spreadsheets: incompatibilities, corrupted formulas, advanced learning curve, and mediocre presentation options, to mention a few.
MARKET REPORTS BY GEOGRAPHIC AREA
One of the new upgrades permits corporate users to access county, state and national demographic data by zip code. It is thereby easy to track population changes, economic trends and housing growth. Users can also view building permit trends for metro areas. This is especially helpful for acquisition studies, performance reports, and budget projections.
Managers can review aggregated market data by available cities and states and compare their private market data to a three month overview of the area average net effective rent per square foot, reported occupancy, national averages and overall occupancy average. Users may also request MarketSurveyTools.com's independent survey data by geographic location.
NET EFFECTIVE RENT ANALYSIS
One of the reporting tools now available in MarketSurveyTools.com is the "NER Projection Tool" where a user can add a unit upgrade/improvement to see if the expense results in a positive return on investment. For example, if a user wants to see how soon it will take to recover the cost of a new refrigerator upgrade, all they have to do is enter the expense and the anticipated rate increase, then watch the program calculate. Likewise, they can also enter a rent concession amount and view the extent of income adversity created thereby. You may download a sample report by visiting http://marketsurveytools.com/docs/NER-Report.pdf .
ACQUISITION STUDIES
MarketSurveyTools.com offers a subscription for due diligence acquisition studies that provides up to ten surveys and more can be added for an additional fee. Users can setup potential properties for purchase, create comparable competitor data and generate focused reports. Spherexx.com has also created an acquisition application especially designed for the iPad/Tablet that can be used to collect acquisition data while in the process of inspecting the building site.
SWEETSPOTDASHBOARD.COM INTEGRATION
MarketSurveyTools.com includes a complimentary subscription to SweetSpotDashboard.com for all clients. The program was created to eliminate much of the energy expended by property management professionals in juggling accounting software, customer relationship management, market studies, commission tallies, performance reporting and customer service—all at the same time. SweetSpotDashboard.com connects all these areas of service into one accessible interface, whether by desktop, laptop, or iPad/Tablet at any given time. A user can reference competitive market data with a customer with a touch of the screen while touring an available apartment. They can also have their prospect complete a preliminary qualification exercise, fill out an application for residency, view the neighborhood hot spots, and study floor plans.
About MarketSurveyTools.com―Business Intelligence
MarketSurveyTools.com creates an apartment market research analysis in a few steps. The application identifies competitive apartment communities with utility information, special features, amenities, and pricing criteria to automatically create apartment surveys, occupancy reports, and apartment pricing comparison studies in multiple formats. It generates square foot rents, net rents, area studies, survey histories, graphing, trend reporting, and vivid reports that are easily shared over time and distance.
About Spherexx.com—Ad Agency | Software Development | Data Centers
Established in 2000, Spherexx.com is recognized as an established leader in the apartment industry website, Internet marketing and software development services. With offices located in Tulsa, Dallas, Austin, and Houston, the company has been distinguished as one of INC5000's fastest growing companies. Spherexx.com received an International Summit Creative Award 2012 for creative and communication excellence.
Spherexx.com offers a wide selection of professional services including web design and development, touch-screen kiosks, Internet lead generation tools, online advertising, apartment leasing consulting, advanced mobile technology, apartment lease-up marketing consulting, and search engine performance. The company also provides branding services, video/multimedia production, print media, and copy writing as well as website and email hosting, database solutions, pay per click, e-commerce solutions and custom programming.
Spherexx.com has developed CRM (customer relationship management) products, marketing and lead generation tools that allow clients to better manage and convert leads to leases and sales. These applications are branded under ILoveLeasing.com, MarketSurveyTools.com, and RentPush.com. Spherexx.com provides web-based prospecting, marketing, advertising management, and support services.
Spherexx.com has provided services to innovative real estate companies like Lincoln Property Company, Simmons Vedder, Cottonwood Residential, Forest City Enterprises, Graham Residential, ZRS Management, LLC and Perry Reid Properties. The company represents over one hundred years of direct, executive level property management experience that readily identifies with the challenges and solutions of multi-family property management professionals.