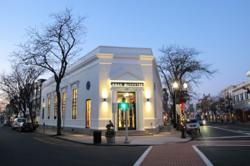 Philadelphia, PA (PRWEB) December 19, 2012
Urban Outfitters will open December 20th in Westfield, New Jersey located at 154 E. Broad Street. The vacant bank, which has been unoccupied for over 25 years, is now the latest Urban Outfitters retail experience. The 3-story building spans over 12,000 square feet of shoppable space. " Existing architectural features of the bank are definitely celebrated," says Joe Kenny, Urban Outfitters Store Design Manager. Ceiling cornices remain throughout the space while the bank's vault and safety deposit rooms are reused as fitting rooms. An elaborate space containing extensive woodwork, a chandelier and a fireplace is used as a sales area for women's apparel and a new grand steel staircase is suspended below a preexisting oculus and skylight.
About Urban Outfitters:
Urban Outfitters is an eclectic lifestyle retailer dedicated to inspiring customers through a unique combination of product, creativity, and cultural understanding. Founded in 1970 in a small space across the street from the University of Pennsylvania, Urban Outfitters now operates over 200 stores in the United States, Canada and Europe offering experiential retail environments and curated women's, men's, and home product assortments.
Urban Outfitters Westfield, New Jersey opens December 20th at 10am. For more information contact Crystal Carroll at ccarroll(at)urbanoutfitters(dot)com