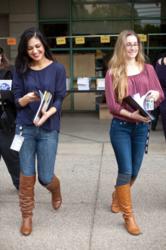 Los Angeles, CA (PRWEB) December 20, 2012
At the downtown Los Angeles campus of Fashion Institute of Design & Merchandising, students are cramming for finals, putting the finishing touches on design projects, and just starting to remember it's holiday time. They took time out of their busy lives to share their wishes for peace, love, and fabulous gifts for college fashionistas!
Shoes are top-of-mind for female fashion students this year. Seventies, punk rock style platform booties with towering heels are the most coveted footwear.
"They go with everything, come in every color, and with spikes on the heel," according to Tatiana, a Merchandise Product Development student, "they are edgy." She owns three pairs and would love to add to her collection.
Merchandise Marketing student Natasha could also use a new pair of shoes—preferably something with a funky, concave heel to add to the closet with 80 pairs she shares with her roommate. Fashion Designer Jennifer from London is dreaming of a pair of thigh-high burgundy leather boots to keep her warm this winter. Knitwear, in the form of long, bulky scarves to top off casual outfits and crochet coats, is also enjoying a moment as the temperature dips to the low '70s.
For those with enough to wear, tools and electronics figure high on the list. Graphic Design majors Ross and Joseph agree that a new desktop with 27-inch screen and retina display would be nice. "A bigger and better screen is it for designers," says Joseph, who is going on for his B.S. in Business Management at FIDM.
Graphic Designer Bebe needs a new hard drive, but she wants is a small hand tool, for decorating with sequins and spikes. And Fashion Design student Saul would be happy with his very own mannequin to work on his sportswear designs from home. Visual Communications major Jodie, who is about to graduate, would like the tools of her trade as she enters the entertainment industry: the budding stylist wants a steamer, clothes rack, and styling kit.
And then there are those who prefer experience to material objects—even at fashion school. Several students mentioned travel as their biggest wish and one stressed out fashion student confessed to wanting nothing more than the ultimate comfort gift:
"All I want is to go home and visit my family in Arkansas. I've been dreaming about my mom's mashed potatoes and pork chops for a week," confesses Shelby. Thankfully, she has a ticket home on Sunday.
With four dynamic California campuses, FIDM/Fashion Institute of Design & Merchandising is the premier west coast fashion design college, educating for careers in fashion, graphic design, interior design, and entertainment. FIDM's graduates include renowned fashion designers like Monique Lhuillier, Emmy® and Academy Award® award-winning costume designers, top fashion industry executives, and entrepreneurs.