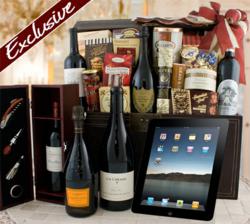 Long Beach, CA (PRWEB) December 20, 2012
A gift from one business to another business, a client, or its' employees is a great way to show appreciation for loyalty and hard work. Generally speaking, most corporate gifts are tax-deductible up to $25 per year for any one client. However certain business structures may be subject to different rules. Be sure to review the IRS Publication 463.
Typically company policies govern the value and occasions for gift-giving. Gifts should never be offered during a bidding process or during negotiations over a contract to avoid the appearance of a bribe. Gifts should be given on appropriate occasions like the holidays or a client's birthday.
Since there is never get a second chance to make a first impression, consider how the person receiving the gift will perceive it. The gift should match the styles and tastes of the person or business who will receive it. The gift should always mirror the type of relationship between business and client, it should always include a personal note and the names must be spelled correctly.
One challenge for corporate-gift givers is purchasing high quality gifts without breaking the budget. Any gift reflects on the company's image so quality is important. And just as important as quality is the packaging the gift arrives in. Spend the time and money on the wrapping to reflect the value of the client relationship.
Gift baskets containing food, candy, wine or other goodies can be customized to fit any budget and client. Throughout history, baskets filled with fruit, nuts, and other foodstuff have been presented as a gesture of good will. These days, gift baskets are not only delivered in baskets, creative companies are loading crates, totes, trunks, dishes and more with food, candy, nuts, wines and other goodies and collectibles.
Containers, contents, ribbons and wrapping can be customized so the theme and its contents have a relationship that the receiver will understand and be pleased with. The container should not only serve the purpose of being a vessel for keeping the goodies, it should serve some stylish after gift use such as home décor or storage. The serving sizes contained in the basket should be adequate for the person or people who will receive it and the food should be of the highest quality. If the serving size or ounces per container included in the basket are not disclosed, call and ask.
Van's Gifts was founded in 1984 as a small store front business and has grown to be a nationwide distributor and leader in the corporate gift basket industry. Each gift is artfully arranged by hand in a high quality keepsake basket, trunk, tote or hamper and decorated with a custom made bow. Van's Gifts' taste team selects only the best varietals from the wine country regions and they are proud to include gourmet foods of the highest quality as found in publications like Sunset, bon appetite, and Wine Spectator.