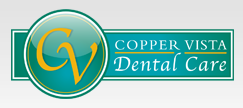 Through modern technology and our caring staff, we focus on improving the lives of individuals through dentistry.
~Copper Vista Dental Care
Phoenix-Mesa, AZ (PRWEB) December 24, 2012
Copper Vista Dental Care LLC has enlisted the assistance of PageViews Interactive LLC to inform past, current and future patients of its Globe dental office opening. Offering family dentist services, this Globe dentistry office specializes in the care of adult and pediatric patients. Conveniently located just east of the Gila County courthouse, the office at the intersection of Ash Street and East South Street now welcomes new patients.
The new Globe office will transform the dental care experience with a friendly environment and extensive list of dental options. Globe patients in particular appreciate the availability of comprehensive treatment options. The dentists and staff at Copper Vista Dental Care are specialized in veneers, crowns, dental implants and more. They provide expert treatment for advanced dentistry associated with the use of implants for the replacement of teeth. When seeking for cosmetic dentistry options, adults and children will receive the expert care they need from an experienced Globe Dentist.
To celebrate the Globe office opening, Copper Vista Dental Care offers a $47 special for new patients. This greatly discounted fee includes a visit with the hygienist, a full set of x-rays and a dental exam. Second opinions and denture consultations are offered free of charge. Former patients are welcomed back to Copper Vista with a free "welcome back" exam. For clients' with Globe cosmetic dentistry needs, patients should consider the buy-one, get-one free in-office bleaching.
Copper Vista Dental Care now welcomes patients at the Globe office located at 1450 East South Street in Suite 3.
About PageViews Interactive LLC
PageViews is a Scottsdale-based SEO company that specializes in custom tailoring performance-based SEO strategies to the needs of its business clients. Contact PageViews by phone at 480-556-9752 or visit the company's online page at http://www.pageviews.com.
About Copper Vista Dental Care
Copper Vista Dental Care's highly-skilled dentists serve patients Monday through Friday between the hours of 8 a.m. and 5 p.m. In business since 1982, the office is associated with Canyon Vista Dental Care, which is located in Apache Junction. Contact Copper Vista by calling 928-425-8175 or visiting the office's website at http://globesmiles.com/.