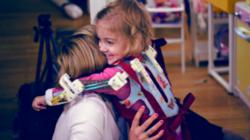 "You can test out your ideas at early stages – even the crazy ones that just might work."
Chicago, IL (PRWEB) December 20, 2012
Emma Lavelle, a 2-year-old with Holt-Oram syndrome might never have been able to reach for her favorite plush bunny, if not for Stratasys Dimension 3D printer. The Wilmington Robotic Exoskeleton, also known as (WREX), gave her the ability to move her undeveloped arm successfully. WREX is one of thousands of new products being developed using 3D printers today, and they are increasingly becoming more popular in the product design community. The future of 3D printing is going to allow small start-up companies to develop products faster and more efficiently. This technology is developing so quickly it's almost hard to imagine the possibilities. 3D printers rapid growth of productivity is similar to how fast Macintosh evolved recently by coming out with their newest member of Apple computers: the Mac book Air. The difficulty comes down to choosing the right 3D printer, taking into consideration all of the important qualities necessary to create a successful print.
3D printers are vastly becoming the next "hot commodity" in the design world, but which one should designers, makers, and artists choose? Mojo is one printer today that will keep the non-believers at bay. Todd Grim from Enginerring.com/3D printing wrote, "I believe Stratasys will see great success with Mojo. I think it is perfect for small shops, small teams in big companies and as a desktop option in an operation with Dimension and Fortus 3D printers." Todd makes a great point about the easy assembly, sleek look, and lower price that Mojo offers. Mojo's complete package comes with the easy to use software: Print wizard. With the included package the entry level price is a great buy with an option to lease; it has excellent hardware user interface, virtually no noise, high support/overhangs, and one of the easiest 3D printers on the market to use. We were lucky to get the chance to speak with Morgon Mae Schultz, marketing specialist at Stratasys to shine the light on the future of 3D printers for small design companies. She explains why Mojo is an ideal choice,
"…the real opportunity happens when you realize that you can make 3D models more often – not just the same amount of models faster and less expensive. You can test out your ideas at early stages – even the crazy ones that just might work. A higher level of creativity and discovery can happen when you start turning more napkin sketches and hunches into handheld models that you can hold and pass around the office and try out. That's the magical part, and that's why we called it Mojo. It's meant to inspire."
We at 424 Design agree that Stratasys's new 3D printer Mojo to be an inspiration for future design projects just waiting to be printed. 424 Design will work closely with Stratsys in the coming year.
Mojo is one of many other 3D printers on the market today, but it is not the only competitor to rise up in the 3D market, an example is the Ultimaker. Sander Van Geelen, a Sales Representative at Ultimaker ltd., one of the best open source desktop printers in the market, was elated to write to us about the 3 awards from Make Magazine that they received this year. Not only did the Ultimaker get called "Best Open Source 3D Printer", but also the most accurate and the fastest. He explained to us that, "The fact that we have been awarded for "Most Accurate" and "Fastest" is due to our very clever design. It allows us to print bigger, at higher speeds, and with even greater accuracy than our competitors." 3d printing companies are pushing for the future of design prototyping. Ultimaker ltd. believes that in the past there were limited materials that were available for printing. Sander continues by saying, "Materials such as wood, nylon and guiding plastic are printable or in test-phases, to accompany the plastic and bio-plastics that are already available at this point." 424 Design and other small product design firms like ours will benefit from 3D printers by "being in charge of the entire manufacturing process."
3D printers today are being called the "game changer", "a revolutionary idea" or the beginning to the "industrialization of the maker movement" but are these new companies printing for their own use or financial gain? Companies Stratsys and Objet are merging. They believe in the future of product development using 3D printers and the combination has resulted in new software technology and a new design outlook. 3D printing technology has certainly risen to international heights by allowing the designer to send a 3D print queue from one part of the world to another, but how does that affect small businesses today? 3D printers are allowing them to make prototypes faster than ever before, which means showcasing their design potential as well as debugging any potential problems in production. This streamlining of the entire process enables smaller design firms to be much more competitive in the market. There is also a direct retail application for 3D printers. Some innovative examples of 3D products that are on the shelves today include Continuum Fashion's Stvct nylon shoe coated with a rubber sole, Teeth tea cup by artist Lily X. Su, or maybe you would be interested in an 8-bit Eyewear that are custom fitted just for you. With the creativity of today's designers and the rapid improvement of 3D technology, 3D printers have allowed little Emma Lavelle to achieve the impossible by overcoming her disability and tomorrow she can aspire to what Shel Silverstein once said, "Listen to the never haves, then listen close to me... Anything can happen, child. Anything can be."
If you want more information on 3D Printing or need help with your idea, need a custom design, and or need a prototype please visit us at http://www.424design.com
-Morgan Rae Stanley, Marketing Coordinator for 424 Design
CITATIONS
Title photo courtesy of Stratasys: Emma hugs her mother thanks to a 3D printer exoskeleton online
Dougherty, D. et al.
The promise of 3d printing
Dougherty, D. et al. (2012) The promise of 3d printing. Make: Ultimate guide to 3d printing, Iss. Winter 2013 p.1-63.
http://www.engineering.com/
Hands on with the Mojo 3D Printer
http://www.engineering.com/ (2012) Hands on with the Mojo 3D Printer. [online]
Stanley, M.
3d printing: designs future
Stanley, M., Morgan(dot)Rae(dot)Stanley(at)gmail(dot)com (2012) 3d printing: designs future. [email] Message to Geelen, S. (support(at)ultimaker(dot)com). Sent 12/14/12.
Stanley, M.
3d printers: future of small businesses
Stanley, M., Morgan(dot)Rae(dot)Stanley(at)gmail(dot)com (2012) 3d printers: future of small businesses. [email] Message to Schultz, M. (MorgonMae(dot)Schultz(at)stratasys(dot)com). Sent 12/10/12.