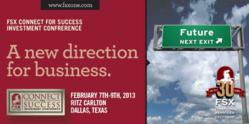 We have limited space and will open Registration for new Broker Dealers and Guests in January so register now!
(PRWEB) December 21, 2012
The premier investment conference organization in the United States, Financial Services Exchange (FSX) has announced that they will be offering Firm Element Training at their February Dallas event as an added benefit to their Members and their firms. The conference will take place in Dallas, Texas, at the Ritz Carlton, from February 7-9th, 2013. The Firm Element Training session will be provided and certified by Richard Nummi.
Rick Nummi is a Former Senior Attorney with the United States Securities and Exchange Commission with expertise in Enforcement and Regulatory Defense and Compliance. He is a nationally recognized authority in securities law, regulation and compliance, a featured speaker/educator at multiple industry (NRS/NSCP/NASD/SEC) trade conferences and presentations. The Firm Element requires broker-dealers to establish a formal training program to keep covered registered persons up-to-date on job- and product-related subjects. The training will consist of all topics required by FINRA.
FSX held its previous event in Phoenix, Arizona and it was sold out. In order to assure FSX loyal members get a slot at the next event and are able to receive their Annual Compliance training FSX has decided to open early registration for Members Only.
"We have limited space and will open Registration for new Broker Dealers and Guests in January so register now!" stated Judy Ensweiler, Executive Director of FSX.
"I've never seen so much excitement around an investment conference; something has really changed since the launch of InterlinkedTV. FSX is the only conference I know of that is giving its companies global exposure months after an event. If a company is fortunate enough to attend an FSX event they will see results. I have no doubt once FSX opens registration for companies the conference in Dallas will sell out just like the last one." stated President and CEO of Interlinked, Delray Wannemacher.
The conference will be attended by Private and Public Companies, FINRA licensed broker dealers, Investment Bankers, fund managers, RIA's, CFA's, Private Equity, Venture Capital firms and Companies that have a product or service that is used by independent broker dealer firms and or emerging growth companies.
Visit FSX Interlinked's Web Channel to watch the exclusive interviews of the companies that presented at the FSX October 2012 Investment Conference such as:
Murphy Mining
Bion Environmental
Fireman's Brew
Save Daily
Go Play Safely
Carbon Central Network
Grant Hartford
Nelson Brothers
Mass Global
Oil States Trading
Pizzametry
World Mobile Holdings
Guardian 8
Galectin Therapeutics
About FSX & InterlinkedTV
FSX is one of the most reputable and established national alliances in the country for the independent broker/dealer network, providing education and opportunity. At each FSX conference, we bring the CEOs and executive officers of the presenting companies together with the principals and key decision makers.
InterlinkedTV is an internet video production and distribution site dedicated to Entrepreneurs and Investors. We feature education, public and private companies, venture capital news, and investment events. This content is exclusive and cannot be found anywhere else. We give our members and viewers a unique chance to meet the CEOs and executives of high growth companies. For more information, visit our Web Channel.