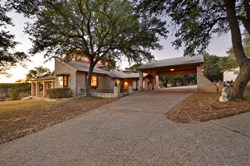 I encourage my clients to buy when water levels are low and then sell when they're high – it's an easy way to make a great return on your real estate investment.
Austin, Texas (PRWEB) December 20, 2012
The nearly year-round warm temperatures have helped make Austin an alluring spot for homebuyers and jobseekers looking to relocate. The city's outdoor appeal is maximized by its beautiful lakes, which residents and visitors flock to in abundance for scenic views, leisure activities and water sports.
"Very few properties in Austin are as coveted as waterfront locales," said Johnny Devora, Austin residential realtor / Austin commercial realtor. "Even though Austin and Texas, in general, has had drought conditions for a couple of years, property on lakes is a great investment. Just like with the stock market, I encourage my clients to buy when water levels are low and then sell when they're high – it's an easy way to make a great return on your real estate investment."
Devora Realty offers these tips when purchasing a waterfront property:
1. Evaluate the property, not just the house. A less-than-stellar structure can be remodeled to bring value to the land, but there's nothing a buyer can do about a less-than-stellar property. Location, location, location – it brings current enjoyment and future earnings.
2. Make certain property and location match lifestyle. If a potential buyer loves the water and city-life, location should be considered to ensure the waterfront property isn't too far removed from the hustle and bustle of the city. This and similar considerations are important to maintaining a fulfilling lifestyle.
3. Be aware of the loan process. Waterfront properties are typically more expensive than their landlocked counterparts. Allot enough time to begin the entire process and verify qualification of the loan.
4. Be aware of insurance considerations. Living on the water usually requires multiple insurance policies and sometimes through different insurers. Look into the requirements in advance.
5. Find out the limitations of the property. If purchasing a home to use the water for recreational purposes, buyers will want to make sure of the restrictions on boats, jet skis, etc. If purchasers want to add a dock, find out what and how this type of addition is regulated.
6. Look into hidden fees. Does the property belong in a Homeowners Association? It may bring with it high fees for water-related maintenance and other responsibilities such as keeping your water-area clean and clear.
7. Consider utilities if in a remote area. Living on waterfront locales often means living away from some conveniences of suburban life. Ask about access to things like cable, clean water, septic system, etc.
8. Buy low, sell high. Most southern states see lake levels rise and fall from year to year. Plan ahead and buy when water levels are low so the property will be more affordable. Once water levels rise again, homeowners will likely be able to command a much higher selling price.
If interested in lake-accessible property, Devora Realty has a great buyer's opportunity: a beautifully-maintained hill-country estate lying along the resplendent Perdenales River, sprawling across 3.62 acres with gated entry, paved driveway, and breath-taking views overlooking the hills of Spicewood, TX. The 2,372 sq ft main house boasts two large bedrooms, two and a half baths, and spacious kitchen area. Panoramic windows throughout the home frame the pristine views in every room. Relax or entertain on over 1,400 square feet of covered patio space and gather around the outdoor fire pit. Also located on the property are two one-bedroom, one-bathroom guest cabins located close to the main estate. This is the perfect layout and location for a bed and breakfast. Property offered at $1,499,000. Visit http://www.devorarealty.com/property/cliffview/ for more information.
Devora Realty is a full-service Austin real estate and advisory firm specializing in the purchase, sale, rental and marketing of select residential new developments, multi-family properties and premier resale properties. Devora Realty is a boutique firm delivering a brand of service based on integrity, informed by expertise and practiced in efficiency. For more information 512-961-9084, call or visit http://DevoraRealty.com.