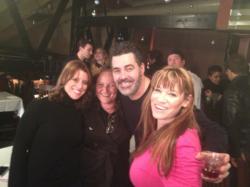 Our goal is to unite the traditional and online comedy community for this one day global event benefiting a charity and to create awareness for Malaria No More," stated Jodi Lieberman, Comedy Gives Back - TWTComedy Co-Founder
Los Angeles, CA (PRWEB) December 20, 2012
Comedy Gives Back, formerly Transforming the World Through Comedy/ TWTComedy, has chosen a new company name and new focus to do comedy that gives back year-round in addition to their main event scheduled for March 27, 2013. To support this new branding, a new video campaign for Malaria No More, "Preventable", will launch in January with star comedic talent.
Dane Cook ("Mr. Brooks"), Kevin Nealon ("Weeds"), Adam Carolla (The Man Show, ACE Network), Russell Peters ("Late Night with Jimmy Fallon"), Skyler Stone ("Raising Hope"), Adam Devine ("Workaholics"), Finesse Mitchell (former "SNL") and Garfunkel and Oates (Kate Micucci and Riki Lindhome) just finished filming the new video campaign. "Preventable" is created by Dave Morgasen and being produced by Rigler Creative. The videos demonstrate that Malaria is preventable using both light-hearted and powerful messages. The new campaign will be available in January on the Comedy Gives Back YouTube Channel.
In addition to these announcements, comedians, entertainers, marketing teams, CollegeHumor, Smosh, and the Goody Awards for social good are giving back this holiday season by contributing their time and resources in preparation for Comedy Gives Back: Transforming the World Thru Comedy's 24 Hr telethon in March 2013 to benefit Malaria No More.
Comedy Gives Back named its' 2013 Charity partner in November, Peter Chenin's Malaria No More and platform partner YouTube. Strategic partnerships have also been created with CollegeHumor and Smosh to unite the community and engage comedy audiences into a global comedy experience.
"Our goal is to unite the traditional and online comedy community for this one day global event benefiting a charity and to create awareness for Malaria No More," stated Jodi Lieberman, Comedy Gives Back - TWTComedy Co-Founder and former "Just for Laughs" Head of Programming.
Confirmed talent to date includes Reggie Watts ("Comedy Bang! Bang!"), Jake and Amir (CollegeHumor), Greg Fitzsimmons ("Big Dog Radio"), Josh Wolf (Chelsea Lately), Kevin Pollak ("Kevin Pollak's Chat Show", "The Usual Suspects"), MaryLynn Rajskub (Chloe on "24"), Paul Mercurio (Writer for "The Daily Show with Jon Stewart") and Michael Buckley (What the Buck.)
The Goody Awards for social good is also doing a pro bono cause marketing campaign to raise awareness of this Comedy Gives Back event and Malaria No More through multi-media, similar to the brand advertising campaigns they previously managed at Fox Interactive Media/MySpace (press releases, social media marketing, video, contest and special Comedy Goody Awards for the comedians and teams volunteering for this event.)
The 2013 digital telethon will take place on Wednesday, March 27, 2013. The live stand up shows will broadcast in real time on the Comedy Gives Back YouTube Channel http://www.youtube.com/ComedyGivesBack from 7 cities, including: Sydney, Australia (The Comedy Store), Singapore, London, Toronto (Yuk Yuk's), New York (Gotham Comedy Club), Austin (Cap City), and Los Angeles (The Hollywood Improv).
Last month TWTComedy was also nominated for the IAWTV Award for BEST LIVE EVENT. The IAWTV (International Academy of Web Television) Awards will be presented at the second annual IAWTV awards on January 8, 2013 at CES (Consumer Electronics Show) in Las Vegas. This nomination recognizes TWTComedy's premiere event in November 2011, as the first multi-platform, live stream, comedy event that benefited the catalytic philanthropy "Off the Mat Into The World", thanks to comedians Colin Quinn, Marc Maron, Jeff Ross, Tom Papa, Bobby Slayton and many more. The event took place from New York (Gotham Comedy Club), Chicago (Zanies) and Los Angeles (The Hollywood Improv).
About
Comedy Gives Back: Transforming the World Through Comedy is a Social benefit enterprise whose March event is the 2nd annual global interactive 24 hour live streamed stand-up comedy event. Transforming the World Through Comedy (@TWTComedy) is the social enterprise brainchild of Amber J. Lawson, Zoe Friedman and Jodi Lieberman. The multi-platform event raises awareness and funds through live stand-up comedy shows that are streamed live from various time zones around the world. The funds raised support an annual catalytic philanthropy. Comedy Gives Back - TWTComedy is the go-to organization that gives back through laughter. http://twtcomedy.com
Media Contacts:
Amber J. Lawson, Comedy Gives Back
310-770-4577
Liz H Kelly, Goody Awards
310-987-7207