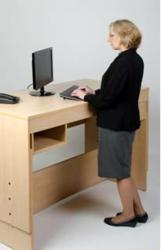 A standing desk allows users to make the most of the work day
Chesire, CT (PRWEB) December 20, 2012
SpectrumGTS is promoting better health and efficiency in the work and home office by turning work environments into full-functioning, productive workspaces with the introduction of their new Standing Desk System.
Recent reports from news sources including Time and NBC show that sitting all day can be dangerous to one's health. The creators of the standing desk system from Specturm GTS know that standing while working—even if for part of the work day—could be an excellent solution for people who are trying to take control of their health at work.
Studies have shown that office workers, many whom spend the majority of a 40-hour work week sitting all day, could be jeopardizing their health. For some, sitting all day may lead to obesity, liver problems, a painful lower back and tightened muscles. Also, as reported in the Washington Post, sitting too much can shorten one's lifespan—even if the worker exercises on a regular basis.
A standing desk allows users to make the most of the work day by using more muscles, stretching ligaments and moving around more to complete routine tasks. With a standing desk, users can stretch while operating the computer, stand while talking to others, and move about while on a conference call.
In developing the Standing Desk System, SpectrumGTS examined current market options and determined existing models lacked features of standard desks. Users want the option to stand or sit and also need storage for papers, pens, memory sticks and daily office items.
The SpectrumGTS standing desk, http://www.standingdesksystem.com, fills the void by offering a practically-designed, standard-sized desk that is fully adjustable and includes space for drawers and shelves for a more organized workspace. This patent pending system provides all the features of a standard desk, along with the adjustability of a standing desk.
SpectrumGTS uses only solid metal fittings to connect panels and add additional bracing to keep the desk stable even when fully extended. While standing at the desk, users will enjoy a comfortable radius allowing them to rest their hands on the side and lean against it. And with the selection of options and colors, the Standing Desk System can fit into almost any environment or décor whether traditional or modern. Additional styles, colors and options will be introduced as users grow their office spaces into full-functioning, productive workspace for today's high tech world.
About SpectrumGTS, LLC
SpectrumGTS and the Standing Desk System, http://www.standingdesksystem.com, are singularly committed to making today's high tech office environment better for users. This includes not only a healthier environment with the standing desk, but also a better work experience with functionality. The office workplace is changing, and Spectrum GTS is adapting to provide a better workplace by utilizing technology of today with a stylish and practical design.