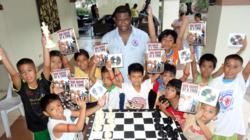 Atlanta, GA (PRWEB) December 21, 2012
Orrin C. Hudson, an international chess champion and master motivational speaker, recently traveled more than 10,000 miles to the capital city of Manila in the Philippines to do what he does best - teaching children (and adults) how to "make the right moves" in the game of chess... and in life.
Hudson, who has been featured on CNN, Good Morning America, and People Magazine, has an award winning leadership chess program for kids and parents. His non-profit organization, Be Someone, Inc, based in Atlanta, Georgia has the goal of helping 1 million young people worldwide. To accomplish this, he travels the globe teaching children to value KASH - Knowledge, Attitude, Skills and Habits.
Children in the Philippines are often at-risk to make bad decisions in life because of the country's economic climate. As a third-world country, nearly 1 in 4 Filipinos live on less than one dollar (or about 40 pesos) a day. In Manila, the country's capital, crime is high and so is prostitution and drug usage.
As a former Alabama state trooper, who was at one time himself an at-risk inner-city teen, Hudson was inspired to travel there to lend a helping hand. His sessions with the children taught them that - for every move there is a consequence in the game of chess... and so it is in life. "One bad move without proper thought can be a game-changer." In addition to the free chess lessons and motivational speeches, he donated free copies of his book One Move At A Time, audio CDs, chess boards, t-shirts, and more.
But Not Just To Kids...
In addition to teaching children in the Philippines, Hudson also spent time talking to and teaching the game of chess to adults as well. In the United States and around the world, he is also often tapped by businesses, organizations, and churches to energize their employees and leaders. He is known as a master in helping people of all ages to make better decisions.
"It doesn't matter how old you are," says Hudson. "All of us can benefit from making better and smarter decisions at school, at home, and at work."
About Orrin Hudson and Be Someone Inc:
Orrin "Checkmate" Hudson, author of One Move at a Time: How To Play and Win At Chess...and Life, founded his non-profit organization Be Someone Inc to help at-risk youth make better life decisions using a very unusual tool: a chessboard. In 2001, Hudson learned of an incident in which seven New York Wendy's employees were shot, five of whom died - for a mere $2,400. This tragic incident inspired Hudson to quit his job and use his life savings to found Be Someone.
Since its founding in 2001, Be Someone has touched the lives of over 20,000 students across the world and has had amazing success with increasing grade point averages, classroom participation and attendance through the mantras, "Brains Before Bullets; Think It Out, Don't Shoot It Out; Heads up, Pants up, Grades up and Never Give up!" By 2017, Be Someone hopes to have made a difference in close to one million students' lives.
For more information, visit his organization's web site at:
http://www.besomeone.org or call 770-465-6445
For more pictures of his visit to Philippines, visit:
http://www.thechessdrum.net/blog/2012/12/19/philippines-welcomes-orrin-hudson/