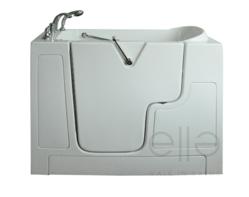 This 3052 transfer walk in bathtub functions incredibly well and can fit into most bathrooms without a major remodel.
Denver, CO (PRWEB) December 20, 2012
Aging Safely Baths & More, a vendor of walk in bathtubs, is excited to announce that it will be adding the Ella's wheelchair accessible bathtub to its growing product line. Now customers will have a larger choice of bathing options beyond a handicap accessible roll in shower or traditional senior bathtubs. The new offering provides wheelchair bound customers with the opportunity to enjoy an accessible, luxurious transfer tub.
Zach Wennstedt, CEO of Aging Safely, said, "Traditional walk in bathtubs aren't the right solution for everyone, often times people in wheelchairs need the ease of access a transfer bath can provide. Aging Safely is constantly listening to customers' requests and adding senior bathtubs that meet their needs and requests. This wheelchair accessible bathtub combines accessibility with luxurious amenities to make it the ultimate safe bathing appliance."
Aging Safely Walk In Bathtubs most recently added transfer tub is available as standard soaking tub or a hydrotherapy bathtub with settings for air, hydro or a combination jet massage. Whether purchasers choose to enjoy the soothing benefits of hydrotherapy or prefer the soaking option, this transfer bath delivers beauty, accessibility and comfort. These unique walk in tubs have an easy-to-clean high gloss finish and are accented by brass hardware and a convenient handheld nozzle. Features include grab bars, an outward swinging door, non-slip floor and a generously sized seat.Customers will be able to conveniently transfer from a wheelchair to the bathtub seat without being impeded by an obtrusive tub wall. Purchasers can also select a right hand or left hand door senior bathtubs, so accessing this unique appliance is just as convenient as a roll in shower.
These exceptional walk in bathtubs can hold 63 gallons of water, and offer a low threshold door to make accessibility easier for those with limited mobility. Customers can add optional amenities, such as a chromatherapy color light system, aromatherapy, or temperature control. Aging Safely offers bathing appliances installed or for delivery only to all 50 states and Canada. Wheelchair bound customers who prefer a transfer tub to a roll in shower can now enjoy senior bathtubs that are tastefully appointed, functional, and luxurious. Aging Safely invites shoppers to browse their wheelchair accessible walk in tubs, to discuss the numerous options that are available and review their industry leading warranties.
Contact Information:
Zach Wennstedt
1-888-779-BATH(2284)
[email protected]