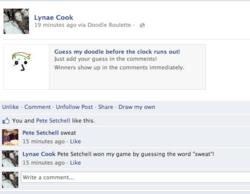 San Francisco, CA (PRWEB) December 20, 2012
The team that built the Baby Gaga Facebook App has launched Doodle Roulette, a drawing-based Facebook game that can be played through user's comment stream. Incorporating concepts of Pictionary and roulette, Doodle Roulette challenges players on both sides of the game with a variety of words options and pop culture references.
Doodle Roulette's witty tone sets the stage for compelling and often humorous rounds, with word options like "diddle," users are encouraged to be imaginative with their drawings. The roulette portion of the game offers many options for users, such as drawing internal or external games, guessing internal or external games, and winning coins or stars.
"Doodle Roulette is a fun way for people to play games on Facebook without actually having to be a 'Facebook gamer'. It redefines casual gameplay by simply letting you type your guess as you would any other comment to your Facebook friend, right there in the stream," says Nicolas Halper, co-founder of Doodle Roulette.
The three friends that built and maintain the Baby Gaga Facebook App, started working on the idea June 2012 and launched the game at the start of November. Doodle Roulette shares an office with Baby Gaga in San Francisco. A smart phone application version of the game is expected to be released in early 2013.