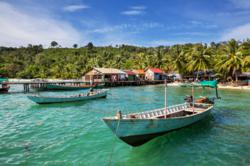 Asia continues to lead the way when it comes to exciting, life-changing holidays
New York, NY (PRWEB) December 22, 2012
Remote Lands, the world's foremost ultra-luxe Asia travel designer, has announced its Dozen Dream Destinations for 2013.
The list, featuring a blend of established and up and coming destinations, is sure to excite travellers planning a visit to Asia in 2013 and is also full of inspiring travel ideas for each destination.
The list includes established destinations such as the South Korean capital Seoul, currently a cultural hotspot thanks to Korean rapper Psy's global hit Gangnam Style, and China's stunning Yunnan province; rising Asian stars such as Vietnam's idyllic Phu Quoc island, Cambodia's untouched southern coast, and the wild & beautiful landscapes of southern Laos; and truly remote lands such as the wide open spaces of Mongolia, the bizarre 'Hermit Kingdom' of North Korea, and the happy Himalayan country of Bhutan.
"Asia continues to lead the way when it comes to exciting, life-changing holidays," says Catherine Heald, Remote Lands' co-founder and CEO. "Our list reflects the huge variety of destinations and activities the continent has to offer to luxury travellers, and is the result of our team's extensive travels, research and insider contacts in the region."
The full list, with beautiful images of each destination, can be found on the new Remote Lands blog. For more information about ultra-luxe travel to these and all other Remote Lands Asia destinations, please email info (at) remotelands (dot) com or visit http://www.remotelands.com.
About Remote Lands, Inc.
Remote Lands, Inc. creates highly personalized, ultra-luxe holidays in Asia, optionally by private jet or yacht. Based in New York and Bangkok, they specialize in extraordinary experiences that are difficult to arrange and require privileged access to important people and exclusive events, drawing upon their relationships with remarkable people around Asia. They distinguish themselves with their unparalleled service, creative itineraries and extreme attention to detail.
Remote Lands has been featured in The New York Times, The Wall Street Journal, Departures, Travel + Leisure, Condé Nast Traveler, Town & Country, the BBC, Fox Business News, Financial Times, National Geographic Traveler, W, Newsweek, Forbes, BusinessWeek and more.