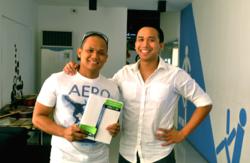 Thank you, Cebujobs.ph! --Mario Estrañero
Cebu, CEB (PRWEB) December 21, 2012
This Christmas season, CebuJobs.PH finally announces the grand prize winner of their Apple Ipad 3 Raffle Giveaway contest. After several screening processes from the various entries via social media networks, they have finally selected a winner from the 6,670 entries submitted for the contest.
During the big day, the team behind CebuJobs.PH featured a live draw for the announcement of the winner via UStream. As of 2:00pm GMT, they began the countdown in preparation for the official announcement at 4:00pm. In attendance was the Department of Trade and Industries (DTI) representative, Ms. Gladys Oro to verify the contest entry details and the winner.
The announcement of the winner of the draw was Managing Director, Ian Callet. "Today, we're proud to finally announce the winner, who'll be taking home with him an Apple iPad 3! The winner of our raffle giveaway is none other than… Mr. Mario Estrañero of Cebu City! He submitted a valid entry via Twitter. Congratulations! Also, thank you so much to Ms. Gladys Oro who is here with us in this booth to witness the contest proper. In behalf of the team, we also thank to all our live viewers and to everyone who participated in our contest."
The winner of the Apple iPad 3 Raffle Giveaway, Mr. Mario Estrañero claimed his prize on December 20, 2012. He was overjoyed by this great surprise and said "this is the best Christmas gift ever." During the brief interview and photo op that occurred on the same date, he shared "Thank you Cebujobs.ph for this gift! For all registered nurses out there, I urge you to check out this site, there are so many jobs for us."
With only a few days left before Christmas day, CebuJobs.PH would like to wish everyone a Merry Christmas and Happy Holidays. For employers who wish to advertise their job vacancies during the holiday season, Managing Director, Ian Callet mentions "A skeletal workforce will be available during the holiday season to provide assistance for companies hiring in Cebu and to answer minor fixes from customers." For more information about their products and services during the holidays, you can email them at info@cebujobs.ph.
About
CebuJobs.PH is a subsidiary of Clicking Labs, Inc. Clicking Labs is a Cebu based company founded in 2010 by Jean-Patrick Bisson, Diana Quartin and Jonathan Kennedy. The company specializes in driving search marketing and social media traffic, social web app development and conversion optimization. Each product or service specifically helps small/medium website owners increase online visibility and improve online sales.