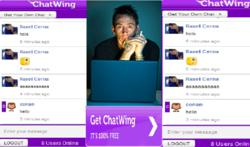 San Francisco, CA (PRWEB) December 20, 2012
Applications nowadays are relying on the efficiency of social media. Based on many observations, the field of social media helped people and businesses worldwide. Chatwing, a company adept in producing chat apps, has recently launched a simple chat widget that allows social media integration and usage. The Chatwing application can also improve the overall visibility of a website. Through social media integration, Chatwing visitors can now expand their social networks.
Facebook marketers have started using the Chatwing chatbox because of its simple but effective features. By default, the Chatwing tool has a relaxing purple theme but users can change it according to their preferences. Modifying the Chatwing app is easy and it only takes few seconds. In the latest Chatwing app version, users can add background images. They can upload an image or choose from Chatwing's background image collection.
Twitter users, on the other hand, can also use the Chatwing chatbox to find new trends and news. By finding trends, these users will also be able to find new followers and friends on a regular basis.
The Chatwing Dev Team will add necessary upgrades in the shout box to make it more efficient. In the coming months, the team is planning to add more login options to accommodate more users. The team will also post updates and notices in their Facebook page and official Chatwing blog.
About Chatwing.com
Chatwing.com specializes in the new field of website chat. Over years, the Chatwing team has introduced live chat widget for hundreds and thousands of blogs. The Chatwing application bridges people from many parts of the world, creating global synergy through the Internet. The shout box can be installed in just seconds, and it can be used for varying purposes such as leisure and Internet marketing. It also allows a user to customize the size, color, and name of the widget.