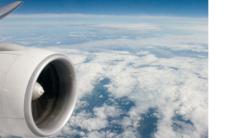 direct the light away from the eyes or switch it off.
(PRWEB UK) 21 December 2012
1.Sit near the window to be able to look outside. Pre-booking a seat gives guarantee of seating arrangements.
2.Remember the size of the plane will make a difference in how much movement there is. The smaller the plane, there will be more vibrations, so if possible try to travel on large planes.
3.Choose areas of the plane where there is slightly less movement; the front of the plane or near the wings is good for this.
4.Recline the seat to be help avoid the forward heaving position
5.Be watchful of the types of food intake at least 24 hours before the flight. Eat "clean" foods during this time. Avoid fatty foods, spicy foods, salty foods and alcohol. Drink plenty of water-always the best choice of liquid during the 24 hour build up and during the flight. Dry foods like crackers are generally a safe option if hunger kicks in on the flight.
6.Turn on the overhead fan to your face and direct the light away from the eyes or switch it off.
7.In connection with the previous note-avoid reading on the flight. Resting the eyes is a sure way to assist in stopping the head from feeling woozy.
8.There are medications that a chemist can prescribe to you but there are also natural preventative like natural ginger
If you like our posting, just drop us a line as we would love to hear from you.
Luggage Superstore's established site is in West Kingsdown, Kent. Their aim is providing competitive prices of the highest quality luggage and top calibre Customer Service for online luggage shopping.
Trina Chee-a-kwai
Luggage Superstore
01474854666
Email Information