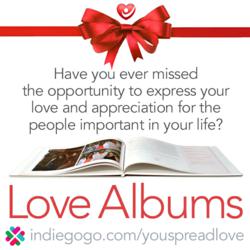 "The most worthy pitch I've heard since I've been here. It's magical!" Indiegogo Exec.~ Brad Wyman
Burbank, CA (PRWEB) December 21, 2012
The concept is very simple: invite family and friends to write personal, heartfelt letters of love and appreciation for someone and send some favorite photos; then with a few mouse-clicks, have it all made into a beautifully printed book as a keepsake which can be mailed directly to the recipient or mailed to you to present to them.
Ian Fenn, CEO and co-founder of You Spread Love, stated, "There needs to be more love in the world right now and we've created an online platform that does just that."
When Indiegogo Senior Executive Brad Wyman heard the concept, he said, "The most worthy pitch I've heard since I've been here. It's magical.... and it deserves everything we can do to make it succeed."
Missing the opportunity to really express love and appreciation for people important in life is not uncommon. Ian Fenn experienced this with his father, who he tragically lost to cancer. Ian recalled, "In addition to all of the warm memories shared by my family at my dad's memorial, I was very surprised by all of the stories told by my father's friends and co-workers as they shared how he had helped them personally, how much they admired him and how he had impacted their lives. Sadly, all of this love, admiration and gratitude was never expressed aloud until it was too late to tell him directly. This was something they all regretted. As I spoke to other people about this I began to realize that it was an all-too-common experience. This was the catalyst for my idea for You Spread Love."
Charlene Fellows, a former programmer and co-founder of You Spread Love, adds, "When Ian explained his concept to me, I just ran with it. I knew exactly what it would mean to someone to read about all the wonderful things they brought to other people's lives… because most people really don't know. It's very much like George Bailey in the classic Christmas movie, 'It's a Wonderful Life', who realizes just how much he impacted people's lives only after he is shown how their lives would have been had he never been born."
YouSpreadLove.com makes it easy and fast to create a LoveAlbum to celebrate someone's life. It is the socially created gift perfect for a wedding, birthday, retirement, recovery, graduation, etc., or to send to a son or daughter deployed overseas.
The possibilities are endless because the love that can be expressed is endless.
Why They Chose to Use Indiegogo
Ian and Charlene have poured their hearts and souls into YouSpreadLove.com, developing it with their two partners from the ground up and funding it themselves. They overcame a snag in the development that cost them both time and money. It's because of this that they've turned to one of the top crowd funding websites in the world.
They launched their campaign on Indiegogo so they can finish LoveAlbums and launch it in the Spring. Ian Fenn said, "We are so close to having the site ready to launch, we just need the public's help to cross that finish line."
YouSpreadLove.com is dedicated to helping millions of people express love and appreciation to the people in their lives, in a deeper, more meaningful way than they otherwise might have done.